Sturgeon announces plan for 2nd Scottish independence referendum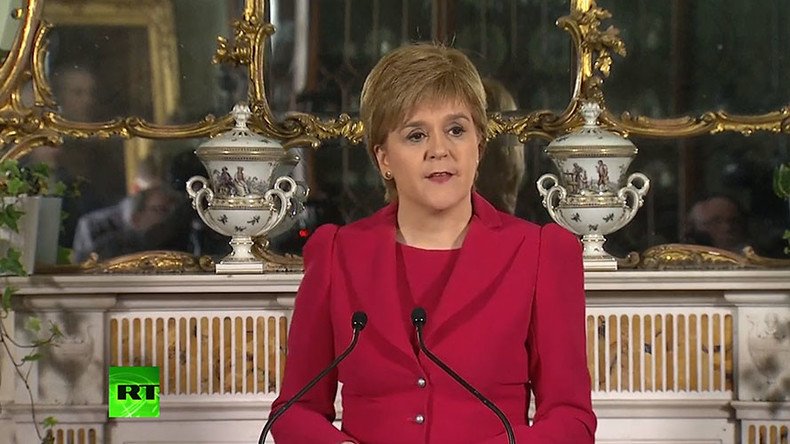 First Minister Nicola Sturgeon has announced plans for a second Scottish independence referendum to take place in autumn 2017 or spring 2018. It comes as Prime Minister Theresa May prepares to formally launch Brexit negotiations.
Sturgeon told a press conference in Bute House, Edinburgh, on Monday she will stand up for Scotland's interest and make sure the Scottish people have a choice at the end of Brexit negotiations.
Claiming the government's plan for a 'hard Brexit' will "damage the economy and change the very nature of our society and country," Sturgeon announced her intention to go to the Scottish Parliament in Holyrood next week to ask it to approve a second Scottish independence referendum.
Sturgeon said another referendum is inevitable as she cannot "pretend" a "compromise agreement" will be reached with the government.
"Whatever path we take, it should be one decided by us, not for us," Sturgeon said.
The PM had failed to move "an inch in pursuit of compromise or agreement," she said, instead putting up a "brick wall of intransigence," despite 62 percent of Scots voting against Brexit.
She had pledged to hold a referendum ever since the UK voted to leave the EU if Scotland is denied access the single market. She said the chance for a second independence vote is "highly likely" after May failed to include access to the single market in her list of priorities to negotiate with the EU.
Sturgeon told the BBC last week that an independence vote should be held in autumn 2018, the "earliest point at which a referendum would be appropriate," as the terms for the UK to leave the EU will be clearer by that time.
"Within that window, I guess, of when the outline of a UK deal becomes clear and the UK exiting the EU, I think would be common sense time for Scotland to have that choice, if that is the road we choose to go down," she told the BBC.
Her appearance at Bute House coincides with the final vote on the Brexit bill passing through the House of Commons on Monday evening. If the bill is passed, PM May will be able to trigger Article 50 as early as Tuesday, formally launching Brexit negotiations with the EU.
The bill had been voted down by the House of Lords, which called for two amendments last week: the guarantee for EU citizens in the UK of their right to stay, as well as allowing Parliament to vote on the final Brexit deal once EU negotiations come to a conclusion.
It is thought the PM aims to trigger Article 50 as early as possible to avoid clashing with the general election in the Netherlands on Wednesday and EU celebrations of the 1957 Treaty of Rome.
Sturgeon must have Westminster's approval to hold another independence referendum.
'Politics is not a game'
While May did not immediately reject granting Sturgeon the chance to call for a second referendum, she did scoff at the idea, saying Scotland has more important things to focus on, such as improving public services, and that most of the Scottish population is against another independence vote.
"The tunnel vision that the SNP has shown today is deeply regrettable. It sets Scotland on a course for more uncertainty and division, creating huge uncertainty," the PM said.
"This is at a time when the Scottish people, the majority of the Scottish people, do not want a second independence referendum.
"Instead of playing politics with the future of our country the Scottish government should focus on delivering good government and public services for the people of Scotland. Politics is not a game."
Defense Secretary Michael Fallon said "there is no need" for a repeat of an independence vote after the "clear-cut" result of the past one in 2014.
Speaking to BBC Radio Scotland, Fallon said: "Brexit negotiations haven't started yet and they are going to be complex.
"I have seen estimates that they might last for a couple of years, so I can't comment on what might be known in autumn 2018," Fallon said.
"But let me be very clear we don't see any need for another referendum we had one just two-and-a-half years ago, it was accepted as a clear-cut result at the time and there is plenty of other business for the Scottish government to be getting on with."
Fallon's claim that another referendum would be pointless was backed by Scottish Labour leader Kezia Dugdale, who said that another vote would break up the country even more than it already is.
"Scotland is already divided enough. We do not want to be divided again, but that is exactly what another independence referendum would do," Dugdale was reported saying by the Press and Journal.
"Two years ago, 85 percent of Scotland's voters took part in the independence referendum and the result was a clear vote to remain in the UK."
Sturgeon also faced backlash from Scottish Conservative leader Ruth Davidson who said the First Minister had been "utterly irresponsible" by calling for a second referendum, and accused her of ignoring her own people's will.
"People have said time and again they do not want to go back to the division of a second referendum.
"Nicola Sturgeon promised the 2014 referendum would be 'once in a generation,'" the BBC reported Davidson saying.
"Today she has ignored the majority in Scotland who do not want a referendum and has decided instead to double down on division and uncertainty."
The latest Ipso MORI poll shows half of Scotland's population would favor independence.
You can share this story on social media: