Hidden 'Knights Templar' cave used for 'black magic' finally explored by historians (VIDEO, PHOTOS)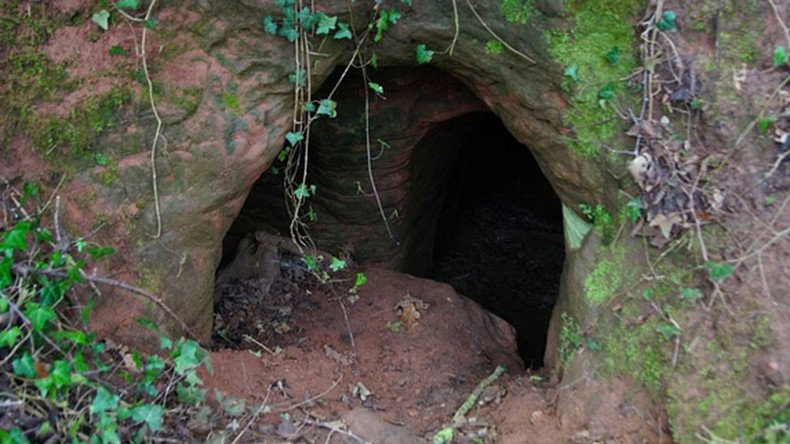 A secret cave in the West Midlands of England rumored to have been used by the Knights Templar has been explored by historians for the first time. Locals claim the man-made sandstone caves have, in recent times, been used for 'magic rituals'.
Located a meter (3.3ft) underground and hewn into the rock inside a disused quarry, the caves contain several alcoves, decorative stone features and a font.
Their structure has been detailed for the first time by Historic England, a public body that looks after England's historic environment, which has categorized the site as a grotto.
Known as the Caynton Caves and located in woodland near Shifnal in Shropshire, they were, according to local legend, used as a secret place of worship by the Knights Templar – a Catholic military order founded in the 12th century.
Historic England notes that the caves probably date from the late 18th or early 19th centuries but are "undatable".
Some of the chambers are so small visitors have to crawl inside on their hands and knees, reported the Shropshire Star.
The owners of the land on which the caves were found reportedly blocked their entrance off to trespassers in 2012 after finding candles, graffiti and trash inside. Pagans and druids have been rumored to visit the caves to carry out rituals, with "black magic" even said to have been carried out there, according to Historic England.
Originally set up to guard pilgrims on their journey to the ancient holy city of Jerusalem, the Knights Templar were granted land across England in the 12th century by King Henry II.
The order has become popular in modern culture through their supposed connection to the Freemasons and the fabled quest for the Ark of the Covenant. It has also garnered fame through films and books including 'The Da Vinci Code.'
You can share this story on social media: