Trafalgar sword awarded by Admiral Nelson goes on sale
Published time: 1 Mar, 2017 17:21
Edited time: 2 Mar, 2017 12:25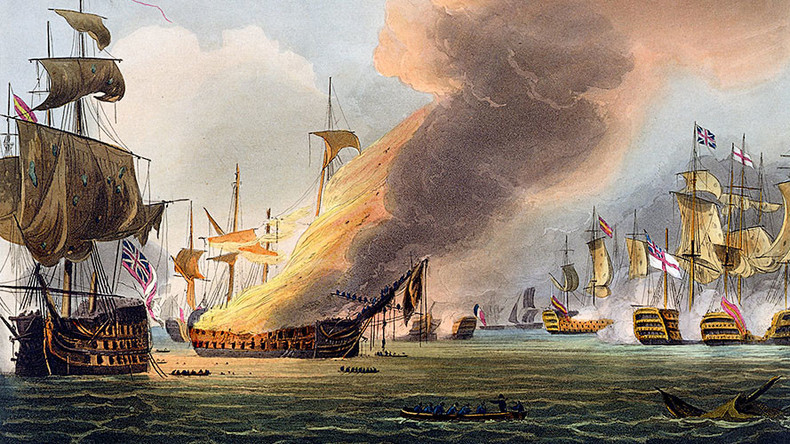 A sword awarded by Admiral Nelson to an American-born captain who excelled himself at the Battle of Trafalgar will go on auction.
The gilded sword was awarded to Captain William Rutherford of the HMS Swiftsure for his efforts during the battle.
It was one of 23 given to captains who fought with particular courage for the British against the combined force of the Spanish and French navies at the pivotal 1805 battle.
Each cost £100 ($123) at the time they were made 212 years ago. One of them, which now belongs to a private collector, is to go up for auction priced at £200,000.
Born in North Carolina, Rutherford was promoted from the ranks by Horatio Nelson himself.
The weapons were funded by the Lloyd's Patriotic Fund, which was originally intended to aid those wounded in war and the families of those killed.
The blade is adorned with an inscription which reads: "From the patriotic fund at Lloyds to WG Rutherford Esqr Captn of HMS Swiftsure, for his meritorious services in contributing to the signal victory obtained over the combined fleets of France and Spain off Cape Trafalgar, on the 21st of October 1805."
John Sexton, of US auctioneers James D Julia Auctions, told the Times: "Of the 23 given out, two are unknown and most of the others are in museums."
The announcement comes only weeks after a massive French flag captured after the earlier Battle of the Nile went on display in Norwich. Nelson himself donated it to the city for posterity.
The ensign of the warship Le Genereux is roughly the size of a tennis court, at 16 meters by eight.