'In fear for their life': Government spending thousands to protect worried judges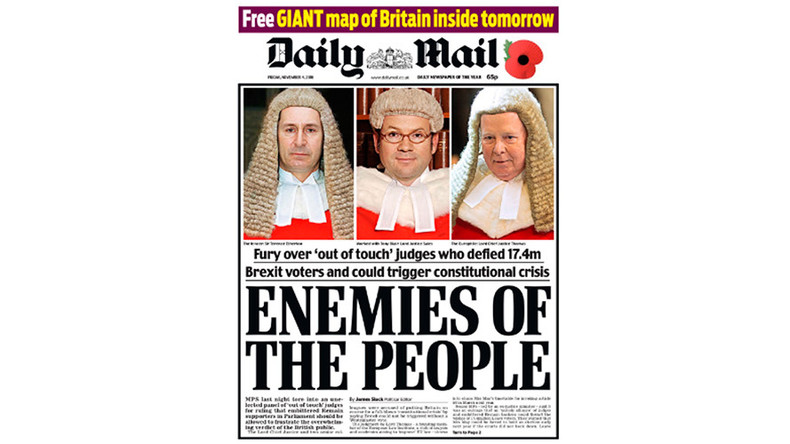 Tens of thousands of pounds are being spent by the Ministry of Justice to step up security measures for judges worried about their safety.
According to Freedom of Information (FOI) figures obtained by the Press Association (PA), nearly £25,000 have been spent on upgrading security at the homes of four judges between 2014 and 2016.
The findings come as the Judicial Attitude Survey, released every two years, revealed earlier this month that up to 51 percent of judges fear for their safety in court.
But 48 percent of female judges and 36 percent of males also worry about their safety while out of court.
The FOI data was obtained after High Court and Supreme Court judges faced a fierce backlash over their rulings which stated that Parliament must vote on Article 50 - the mechanism allowing the UK government to start the formal Brexit process of leaving the EU.
The Daily Mail was among the tabloids which launched a scathing attack on the judges, with one of its headlines claiming they were "the enemies of the people," who had started a "war on democracy" by "defying the vote of 17.4 million voters."
Between 2014/2015, £20,918.74 ($26,079.72) was spent on upgrading security at one judge's house alone. The following year, £3,939.93 ($4,911.77) was spent on installing security devices at the home of three judges.
A family and civil court judge told PA that physical abuse and threats were common. Speaking anonymously, she described an instance when a man who had his children taken away from him smuggled a knife into court and threatened to kill her.
"The level of threats is getting worse. Incidents are common and the authorities are not even recording them," the judge said.
She added that judges were routinely being left with accusers and defendants in small rooms without any security guard to keep the situation under control.
Co-director of the UCL Judicial Institute Professor Cheryl Thomas, who coordinated the Judicial Attitude Survey, claims the government is also partly responsible for the heightened risk of judges being harmed.
She said government's decision cut to legal aid has left people without a lawyer representing them, leading to "warring parties" facing each other in courtrooms.
"So as we have more and more people who need to go to court to resolve difficult, stressful, emotional family breakdown issues, who may not have access to lawyers to represent them, you have warring parties fighting it out in court," Thomas said.
"And that places much greater security concerns on judges in court."
The Judicial Attitude Survey also found that up to 15 percent of judges have concerns about how they are treated on social media platforms such as Twitter and Facebook.
Thomas said: "Judges in their day jobs are judges, but they are also normal human beings and they may have Facebook accounts that have nothing to do with their work, and they may think that no one can find out anything about them.
"Or they may be completely unaware of the details about them that are simply very easily obtainable by quick internet searches."
Thomas added that judges were now being briefed on what personal information is available to the public and how to increase their privacy if they wish for data not to be disclosed.
You can share this story on social media: