Tory government cutting school funding for first time in decades – IFS report
Published time: 27 Feb, 2017 15:53
Edited time: 28 Feb, 2017 13:54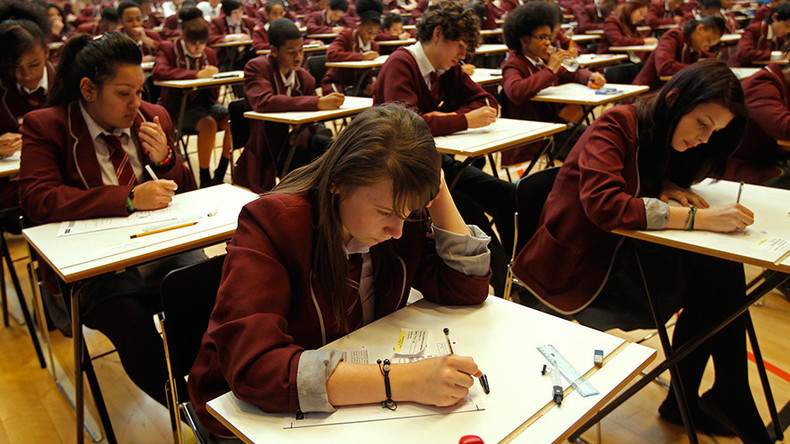 The UK government will cut school funding for the first time in two decades, a new analysis by the Institute for Fiscal Studies (IFS) claims.
According to the IFS, the real-term spending on schools could drop by 6.5 percent over the course of this parliament.
"Over the next few years, both further education and schools are due to experience cuts.
"For schools, this comes on the back of very significant increases over the last few decades," one of the report's authors, IFS associate director Luke Sibieta said.
"This will be the first time schools have seen real-terms cuts in spending per pupil since the mid 1990s," the report adds.
While schools have been protected for the past two decades, the same cannot be said of further education, which has had its funding squeezed over the past years.
The report claims that funding for students in further education will be the same in 2020 as it was back in the 1990s.
The report comes after the government was accused of not knowing how much it needs to invest on a child's education, and of not committing enough funds for pupils to get the education they need.
"The Department for Education unfortunately doesn't know how much it costs to educate a pupil whether it be a primary or secondary pupil," Emma Knights, the National Governors' Association chief executive, said on BBC Radio 4's Today program.
"They don't know how much it should cost if you're an efficient school providing a good education for each pupil.
"What [the IFS analysis is] really showing us is the cake simply isn't big enough to educate all the pupils that we have across the country."
The claims are supported by teachers leaving their jobs because of a lack of resources necessary to adequately educate British students.
"I'm leaving something I love because quite simply there is not enough money to do the job properly," Mary Sandell, headteacher of Forest School in Winnersh, who is among those leaving their profession due to lack of funding, told the BBC program.
"I've been in education since 1980 and it's the worst it's ever been from my perspective," she said.
But a Department for Education spokesperson dismissed the claims and said that the government's funding for school pupils was at a "record" high.
"School funding is now at its highest level on record at more than £40bn [$49.8 billion] in 2016-17 and the IFS has shown that by 2020 per pupil spending in schools is set to be at least 70 per cent higher in real terms than it was in 1990," the spokesperson said.
"We are transforming post-16 education and investing £7bn to ensure there is a place in education or training for every 16 to 19-year-old who wants one."
The Department for Education also denied claims a week ago by a cross-party committee of MPs that there is a "significant teacher shortage."
It instead claims that the current number of teachers is at a "record" level.
But Neil Carmichael, who chairs the committee, claims the government should put more effort in recruiting teachers and said: "The government needs to do more to encourage teachers to stay in the profession by raising the status of teachers, improving the opportunities for good quality training, and by doing all it can to help reduce teacher workload."