Feminist art student's naked anti-Trump protest censored by Facebook (PHOTOS)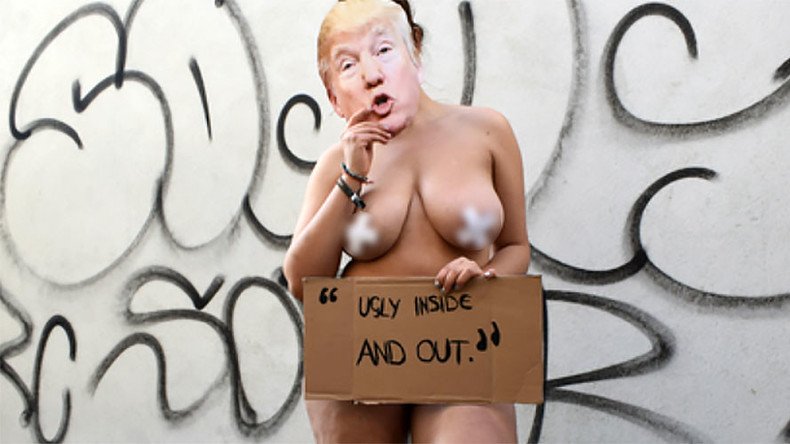 A feminist protest against US President Donald Trump was taken off Facebook for featuring "female nudity."
Emma Dyason, a student of Fine Arts at the University of Plymouth, was shocked to receive a message from Facebook administrators threatening to block her account for displaying nude pictures.
The photos were taken as part of an art project that aimed to empower women and protest against comments made by Trump.
"Last week I produced and executed a photo shoot, taking a feminist/protest approach by writing sexist quotes made by Trump onto scrap pieces of cardboard, and having women pose 'nude' in the aim to empower women," Dyason told the Plymouth Herald.
"I posted three of the images on Facebook, which resulted in many people sharing the post, much to my delight.
"A day after posting the images, I received a message from Facebook informing me that they had removed the post due to 'female nudity,' and also threatened to close my account," Dyason added.
The artist, who checked Facebook's terms and conditions before posting the pictures, has accused the social media giant of sexism.
"They also state that they do not condone sexist behaviour, which in my opinion, is exactly the kind of behavior they have shown towards this project."
Dyason said Facebook only restricts the display of genitals and buttocks as well as images of breasts if they include nipples. She is confident that she did not breach the terms and conditions, as all of the relevant body parts were covered either by tape or pieces of cardboard.
She has reportedly contacted Facebook's moderators with a compliant, but is yet to receive a reply.
This is not the first time the social media giant is accused of censoring the anti-Trump protests.
Last month, images posted by publishing company Badlands Unlimited, which featured rainbow-colored signs which read "Fags Hate Trump" and "God Hates Ivanka," were deleted for not meeting Facebook's "community standards."
RT has reached out to Facebook for a comment.
You can share this story on social media: