Bunker busted: £1mn worth of pot snatched by cops in nuclear bunker-turned-giant cannabis plantation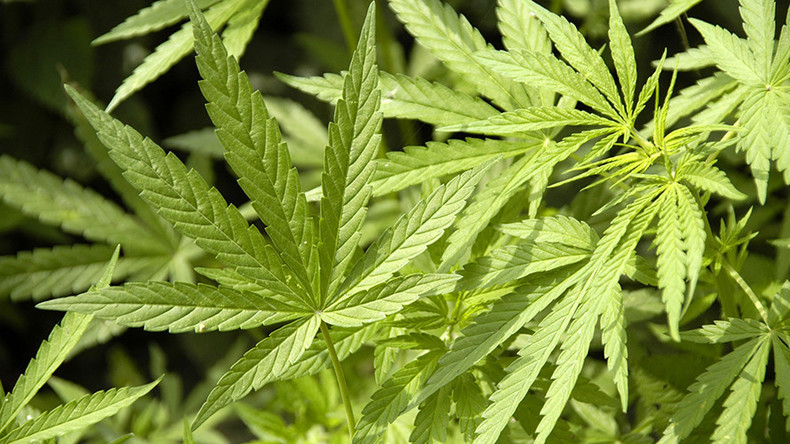 Thousands of cannabis plants have been found by Wiltshire police in an abandoned underground bunker built in the 1980s to serve as a nuclear shelter. Six people have been arrested in the raid, on charges including cannabis cultivation and human trafficking.
The large-scale cannabis farm was busted in the course of a police raid carried out on February 22, which targeted a civil defense bunker built in Chilmark, a small village in Wiltshire, in 1985. It was decommissioned following the end of the Cold War and sold in a sealed bid action in the mid-1990s.
While the clandestine facility is no longer the property of the British Ministry of Defense, the construction has not suffered any considerable damage and remains inaccessible for potential intruders. To get into the building, the police officers had to spend some time in an ambush watching the door to catch suspects as soon as they came outside. Upon arresting three men living in the facility, the officers used their keys to enter the bunker and found it packed to the brim with thriving weed plants.
The pot growers made good use of about 20 bunker's rooms located on the building's two floors. Each room is estimated to be 200 feet long and 70 feet wide.
"Almost every single room had been converted for the wholesale production of cannabis plants, and there was a large amount of evidence of previous crops," said Detective Inspector Paul Franklin, of the Dedicated Crime Team, describing the scale of production as "an enormous set up."
Three more people, who are suspected of taking care of the crops, were found inside the premises. Among them are two teenagers, aged 15 and 19. The alleged pot-growers were charged with cannabis production, while the men, aged 27, 30 and 45, who were detained outside the farm, also face human trafficking charges.
While the police struggled to assess the exact street value of the crop due to more than an impressive amount of the plants, the preliminary estimates suggest that its value could exceed £1 million ($1.2 million).
"At this early stage of the investigation it is almost impossible to work out how many plants are inside, but we are talking thousands rather than hundreds," Det. Insp. Franklin said, adding that the find is one of the biggest ever discovered in the area.