Weapons amnesty in posh English county turns up 100s of deadly knives, swords, & guns
Published time: 23 Feb, 2017 17:06
Edited time: 25 Feb, 2017 13:30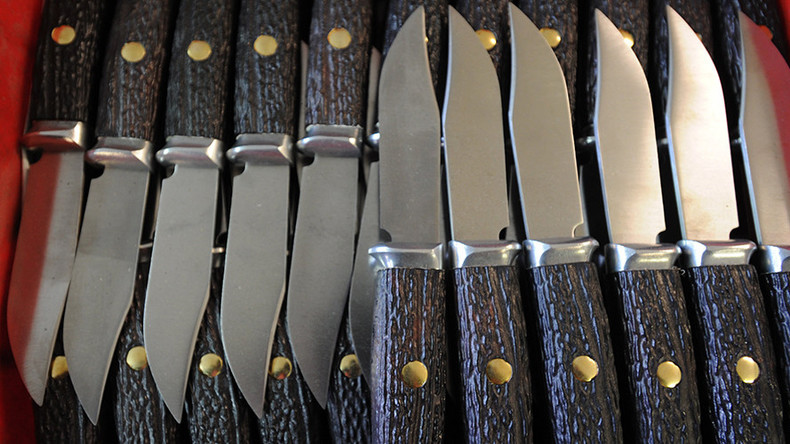 A weapons amnesty in the posh English county of Surrey has collected hundreds of knives, swords, and guns, which will now be made into a sculpture.
The armory, gathered from one of England's most affluent areas, will now be forged into a giant statue made from edged weapons collected across the UK.
"The force encouraged knife owners to 'save a life, surrender your knife' anonymously, by depositing blades in knife bins at Guildford, Reigate, Staines and Woking police stations," a spokesperson for Surrey Police said.
"All knives surrendered as part of the amnesty will now be given to the British Ironwork Centre and used in a spectacular 27 foot tall 'Knife Angel' by artist Alfie Bradley in memory of those whose lives have been tragically lost to knife crime."
The weapons were deposited in special bins throughout the country at an average of one every three hours according to police estimates.
"I'm pleased that so many people have taken this opportunity to get these potentially deadly weapons safely off our streets. Thank you if you have made the decision to hand in your weapon – your action has the potential to save a life," Surrey Police Superintendent Bex Smith told the Telegraph.
"If carrying a knife is still a temptation for you, our message is clear: it isn't cool, it won't protect you – in fact you're more likely to be hurt yourself – and we will arrest and prosecute you if we catch you. Please think twice before taking a knife out with you."
The amnesty follows a massive crackdown on guns earlier in February, which tracked down a substantial arsenal of heavy weaponry.
Among the weapons seized by the National Crime Agency (NCA) and counter-terrorism police were 200 handguns, two machine guns, one sub-machine gun, 11 assault rifles, and 4,385 rounds of ammunition.
British authorities made 282 arrests during the intensive four-week operation between October and November last year, which sought to prevent weapons falling into the hands of terrorists and criminals.