Police raids seize 800 guns, assault rifles & Kalashnikov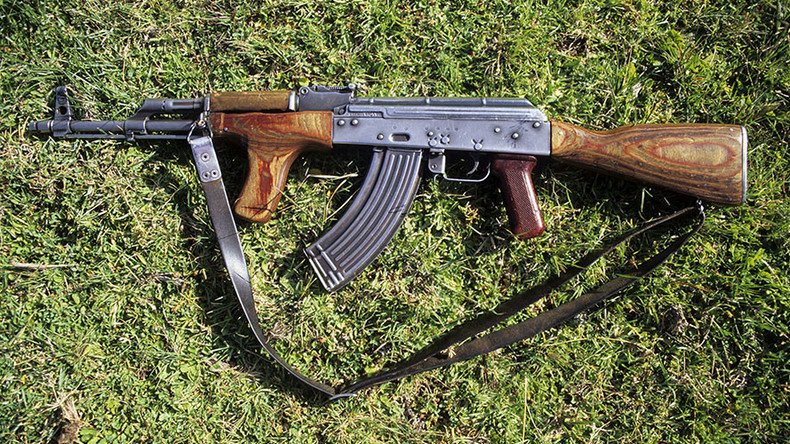 British police seized more than 800 firearms, including assault rifles and a loaded Kalashnikov, during an intensive month-long, multi-agency counterterrorism operation.
Among the weapons seized by National Crime Agency (NCA) and counterterrorism police were 200 handguns, two machine guns, one sub-machine gun, 11 assault rifles, and 4,385 rounds of ammunition.
British authorities made 282 arrests during the intensive four-week operation between October and November last year, which sought to prevent weapons falling into the hands of terrorists and criminals.
Some of the weapons seized were from registered firearms vendors, who had their licenses revoked, while others were from arms traffickers.
Handguns and shotguns were the most common firearms confiscated, but police also seized a Kalashnikov assault rifle, a Skorpion sub-machine gun, other assault rifles and 80kg of illegal drugs.
The operation also involved Ministry of Defence (MoD) police and coincided with a public campaign to keep #GunsOffOurStreets led by anti-crime charity Crimestoppers.
Since last year, London's Metropolitan Police have offered cash rewards to members of the public who tell them where illegal weapons are located.
The move followed a spike in gun crime in 2016, prompting concerns among officers that terrorists could obtain weapons from criminal gangs and then carry out a Paris- or Brussels-style attack in the capital.
NCA Deputy Director Chris McKeogh said the gun seizures had a significant impact on the availability of guns in the UK, which is already considered low compared to other Western nations.
"The surge of activity across the whole of the UK has yielded significant results – from the seizure of illegally-held firearms and ammunition, to the number of reports we received from members of the public via Crimestoppers," he said in a statement.
"Collectively, we will build on what we achieved in this short period of time to ensure that we develop the best intelligence we can about the firearms crossover between organized crime and terrorism."
Detective Superintendent Nick Wilcox of National Counter Terrorism Policing said in a statement that "Low firearms availability is a major advantage in the UK.
"In many other Western countries someone like Muhiddin Mire, the man who attacked innocent passersby in Leytonstone tube station last year with a knife, could probably have got hold of a firearm and one serious injury could have become tens of deaths.
"Communities defeat terrorism – our collective safety depends on everyone's efforts and we need your help to prevent a marauding firearms attack."
You can share this story on social media: