Tooled up: London police want more firearms & Tasers, poll shows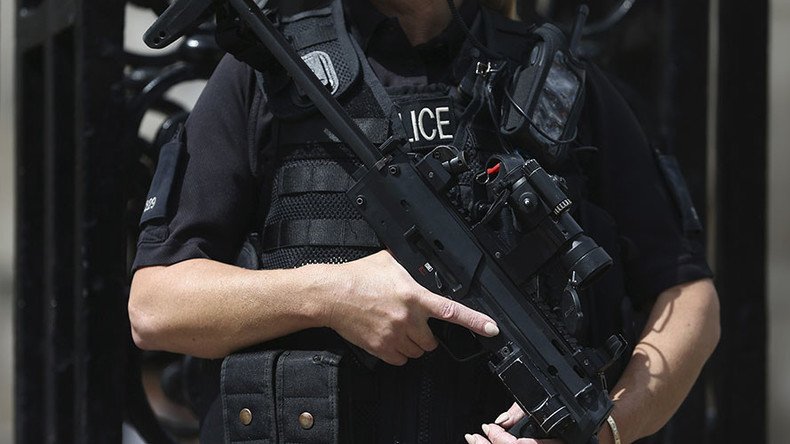 Around half of London's Metropolitan Police officers want to see more armed cops on the streets, while 75 percent of them want all officers to carry Tasers, according to a police union survey.
The Metropolitan Police Federation (MPF) found that 43 percent of officers wanted more weapons-trained cops on the streets while 75 percent want Tasers to be issued to all officers.
MPF chairman Ken Marsh told the Guardian: "We're in a far more dangerous society than we have ever been and so we have to have the correct equipment to deal with that.
"If you take the lorry in Nice for example, that drove into crowds of people, my cops are not armed and they would not have been able to respond like the French police did, and instead would have had to make a call."
He insisted the union is not proposing "mandatory arming of all officers" but rather that more officers should be firearms-capable.
"We have to stick to the stringent criteria and the criteria for handling a firearm in the UK is still the toughest in the world," he said.
The questionnaire was sent out to 31,000 Met police officers and was answered by a third of members. It found that 26 percent of officers want to be routinely armed, up from 20 percent in 2016.
Some 12 percent said they never wanted to carry a firearm as part of their duties.
Marsh also backed buying more electro-shock weapons, telling the paper: "If you look at the last two to three years, the number of assaults on police are going up unrecognizably."
He was also nostalgic for a bygone era, saying "the average constable doesn't hold the same authority" they used to.
"When I was a child, you didn't dare blink at a police officer," he said.
Speaking to RT, former counter-terrorism detective David Videcette contested some of Marsh's claims.
"I don't think that one attack, (such as Nice which could have easily been prevented prior to the event by policing inside the cordon properly), is reason enough to turn to arming all officers with firearms," he said.
"Having a firearm drastically changes the way that we do business with the public, the way that we interact with the public and the way we are perceived as police officers."
You can share this story on social media: