Theresa May 'used porn star to liven up her image... & chatted over coffee'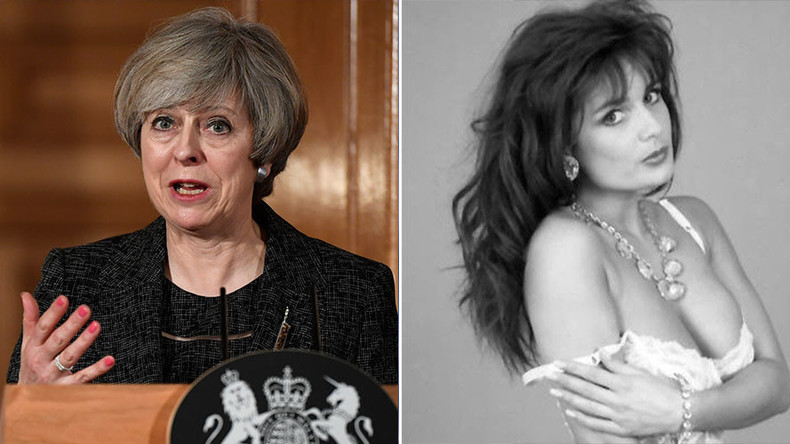 Before rising through the ranks, Theresa May used a porn star with the same name to perk up her image, according to a new tell-all book about the notoriously-private prime minister.
May, then-shadow secretary of state for education and employment, appeared on a GMTV daytime television sofa in 2000 alongside adult film star Teresa May, who had starred in 60 adult movies, to politely discuss current events.
All that had brought them together that day was the similarity of their names. Teresa May – without an h – was a 32-year-old porn star from Beckenham in South London, and Theresa May was a former City high-flyer and the MP for Maidenhead.
At the end of their TV appearance, the pair was said to have enjoyed their conversation so much they kept it going over a coffee in a nearby cafe, according to a new book on the PM, 'Theresa May: The Enigmatic Prime Minister.'
"I have to confess I haven't actually seen any of the things that Teresa has been involved in. It's up to her how she wishes to earn her living. She may think it's slightly strange that somebody likes to earn their living as a politician. Teresa has chosen a career, she's working at it and I'm sure she does her job well."
Teresa was equally complimentary.
"Everyone has to do their job out there and I'm sure she does it very well, just like I do my job very well," she said.
The Conservative Central Office were reportedly pleased with the image May was portraying – a modern woman with a good sense of humor and non-judgmental about the other May's career choice.
"This Conservative woman was in touch with 21st Century Britain, and wasn't afraid to have a little fun," the book's author, Rosa Prince, writes.
READ MORE: Did the White House just mistake British PM for porn star 'Teresa May'?
The legend of 'the other Teresa May' has been passed down through the ages by Tory press officers as an example of spin doctoring at its finest. The story made headlines around the world.
The party was not in a good place since the devastation of the 1997 election three years earlier and opinion polls suggesting Tories were failing to connect with voters.
Last month, Teresa and Theresa made headlines when the White House misspelled the PM's name three times in official documents related to her US visit.
After the announcement that May would become PM in July, hundreds of people mixed up the two women on Twitter. Many sent tongue-in-cheek messages of congratulations to the other Teresa May.
You can share this story on social media: