Trident nukes useless against today's actual security problems – CND report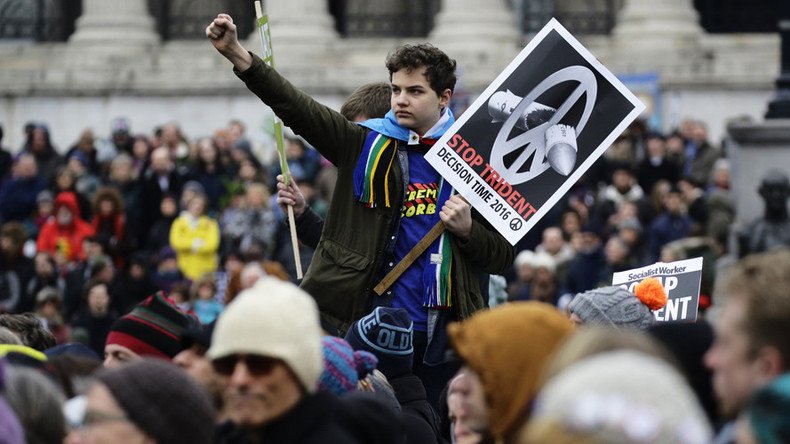 Britain's Trident nuclear missile system fails to address any of the real security issues faced by the country or the world and should be scrapped in favor of a more mature approach, according to a report by the Campaign for Nuclear Disarmament (CND).
The document lists what the CND considers the real security threats facing the UK and argues that Trident cannot protect against any of them. These include terrorism, climate change, cyberattacks and global health crises.
The CND estimates that the overall cost of replacing Trident, which has already been approved in parliament, would up to £205 billion (US$257 billion), though official estimates are much lower at around £40 billion.
January also saw the safety of the at-sea deterrent under scrutiny again when it was reported that during a June 2016 launch test, a missile veered towards Florida.
Despite accusations of a cover-up the government has reiterated its faith in Trident and has no plans to reconsider the forthcoming Dreadnaught replacement.
The study from the CND encourages readers to ask "what is true security in the 21st century?"
"As the world becomes more inter-linked than ever before, it is becoming the norm to cooperate with other states on the challenges facing us, rather than battle against each other," the authors argue.
"The actual security threats identified by the government and in this report are complex and will not be solved overnight. But Britain does have the capability to overcome them. What the country does not need is to spend billions replacing Trident," it concludes.
The report also quotes General Sir Hugh Beach, a retired senior British Army officer who now works in the field of disarmament.
The report quotes him as seriously criticizing the idea of nukes as a key to global independence.
"I know of no instance where a non-nuclear weapon state has been deterred from doing something that it wanted to do, or compelled to do something it did not, by coercive threat from a possessor state by virtue of its nuclear weapons," he argues.
"Why should Britain be so afraid of surrendering to nuclear blackmail when no one else ever has? Are we such wimps?"
Esteemed security Professor Paul Rogers is also cited in the report as saying Britain could take up a role as a key player in addressing real security issues.
These include global inequality which pushes the poor into extremist movements and the insecurity caused by powerful states resorting to force.
"The tragedy for Britain is that if it could kick the nuclear addiction and rethink its whole attitude to security it could begin to play a genuinely international role and even get the respect and status that it has for so long sought," he said.
You can share this story on social media: