'Flying target'? Theresa May's US-Turkey flight was visible on popular tracking app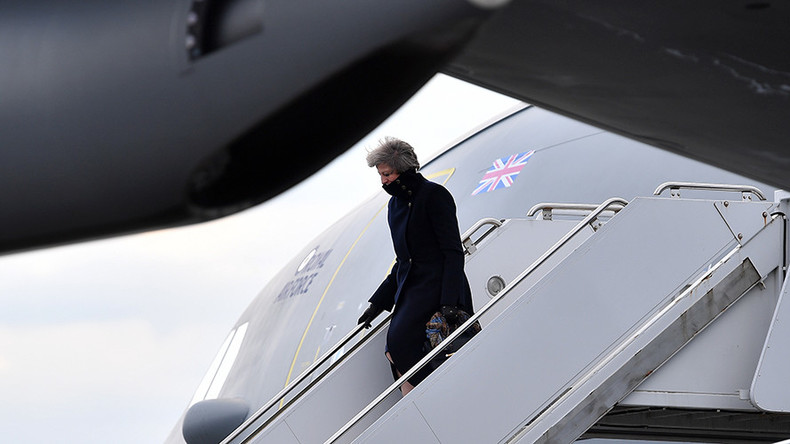 British Prime Minister Theresa May came under the threat of a potential terrorist attack last week when information on her flight from Washington to Ankara became available to anyone with a real-time aircraft tracker, experts said.
The Flightradar24 website uncovered the exact location, height, speed and direction of the plane known as "May Force One," turning the prime minister into "a flying target" for terrorists, experts told the Daily Mail.
Possible attackers could have obtained the full information on May's flight simply by using a mobile phone.
"This is perfect information for a would-be terrorist. They should have turned off the tracker on the plane. It is ridiculous and irresponsible that this information is publicly available," said Chris Phillips, the former head of the National Counter Terrorism Security Office.
"Planes are in the most danger when they are taking off and landing. If you know the next incoming plane has the prime minister on board, you can lie in wait and fire something at it," he added.
Experts insisted that the transponder, a device that reveals the plane's location, installed on May's aircraft, should be switched off, as is the one that is installed on the US president's Air Force One.
Civil planes have two transponders. The second one isn't visible to websites such as Flightradar24. It is instead used for communicating with air traffic controllers during flight.
May had quite a lengthy overall route with flights from London to Philadelphia, then Washington, where she met with US President Donald Trump, before jetting off to Turkey's capital, Ankara, for talks.
Following a string of terrorist attacks in Turkey last year, the UK Foreign Office issued a warning for British tourists, saying that there is believed to be "a heightened risk of terrorist attack against the aviation industry in Turkey."
Normally, military and diplomatic jets do not appear on websites such as Flightradar24. However, last week, another RAF plane was also tracked down by an enthusiast taking off in London and landing on Malta and back.
The converted RAF Voyager, previously nicknamed "Cam Force One," made its first in July 2016, when it took then-Prime Minister David Cameron to a NATO meeting in Warsaw. The jet, which was refitted at a cost of £10 million ($12.5 million) is used to take top-ranking officials and the Royal Family to overseas meetings.
You can share this story on social media: