Spanish MEP threatens Scotland with 'back of EU membership queue' if it becomes independent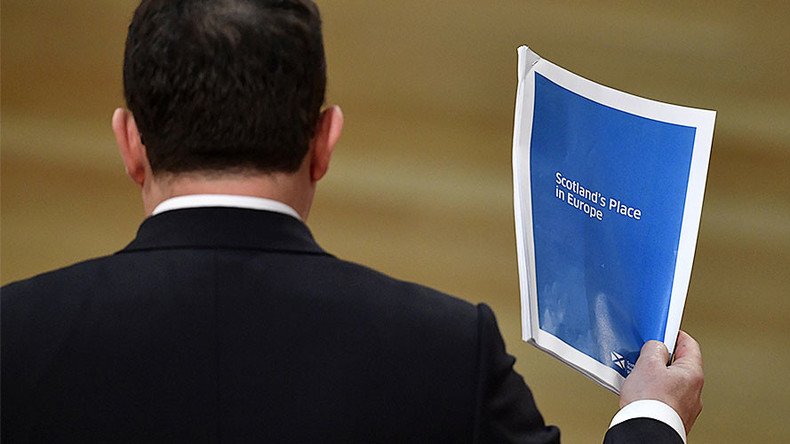 A Spanish MEP used scare tactics to warn Scotland against seeking independence post-Brexit, saying it would have to "join the queue" behind Montenegro, Serbia and Turkey if it then applied for EU membership.
Addressing the European Parliament in Brussels on Monday, the Scottish parliament's External Affairs Secretary Fiona Hyslop appealed for "solidarity" with European leaders, the Scotsman reports.
"In the turbulent and unpredictable months ahead, I ask you, respectfully, members of the European Parliament, as the elected body representing all EU citizens, please do not turn your back on Scotland.
"Now is the time to demonstrate your solidarity with a nation which voted overwhelmingly to remain within the European Union."
But Esteban Gonzalez Pons, who leads Spain's biggest MEPs group, said Scotland would not automatically remain in the EU if it left the rest of the UK through a referendum before Brexit.
He also repeated a previous warning that Scotland would not be allowed to secure a stand-alone deal which allows it to stay in the EU's lucrative single market after Brexit as part of the UK.
"If once the UK leaves, and Scotland decides to leave the UK, then you can join the queue after Montenegro, Serbia, Bosnia Herzegovina, Turkey to join the EU.
"The rules are the rules - we can't change the rules."
According to a poll published on Monday, more than half of Scottish people do not want another vote on independence to be held within the next few years.
Scottish First Minister Nicola Sturgeon has said another ballot on the issue is highly likely after the UK voted to leave the European Union despite a majority remain vote north of the border.
The Press Association says the Panelbase poll found support for a second referendum before the UK leaves the EU has fallen from 43 percent following the vote last June to just 27 percent.
While 61 percent said they believe the UK should remain in the EU, 39 percent want to leave, with support for Brexit at 35 percent of those who voted Yes in the 2014 Scottish independence referendum.
Around a third of voters oppose Scotland applying to join the EU in the event of independence, compared to 48 percent who are supportive and 21 percent who do not know.
Overall, the poll found support for independence is slightly up on the 2014 result at 46 percent, with the 'no' vote at 54 percent.
You can share this story on social media: