Dog trainer repeatedly shocks himself with electric collar in push for ban (VIDEO)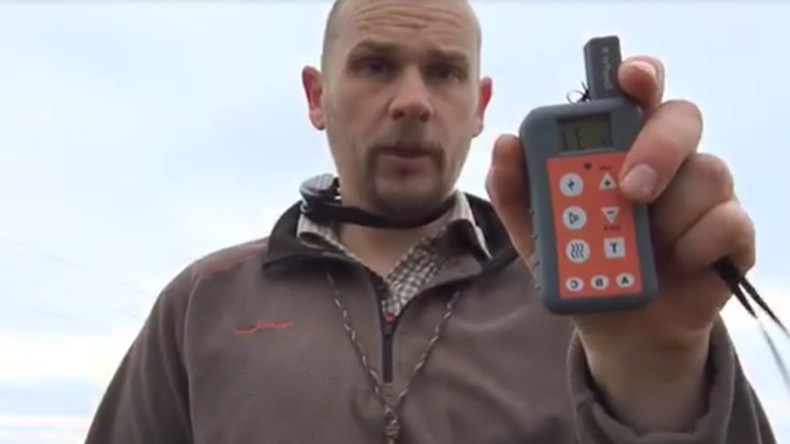 A dog trainer has filmed himself being repeatedly shocked with an electric collar in a bid to get the "cruel and dangerous" devices banned from the UK.
David Pitbladdo, from Perthshire in Scotland, who has trained dogs for more than 20 years, fixed a collar to his neck and zapped himself multiple times live on Facebook.
The collar he used has 10 different intensities, with settings for each intensity to be used for an increasing length of time. Pitbladdo worked his way up to setting 95 – the highest intensity used for more than a second.
Starting at 13:43, the expletive-laden video shows Pitbladdo shaking and struggling to speak as the shocks get more powerful. He says his concentration levels deteriorated and his neck went red.
Pitbladdo, from Perthshire Gundog Rescue, told RT he put the video online to discourage others from using them on dogs.
"Anyone that's going to use one should wear one themselves so that they know what they are inflicting on their dog. I know now what that stimulus feels like."
The devices are banned in other European countries and should be in the UK, Pitbladdo says.
"If trainers who use these collars can train without them, why use them? It's a tool that should be used as a last resort," he said.
The Scottish government responded to the electrifying protest by outlaying plans for reform regarding use of the devices.
"We have confirmed our intention to introduce strict, new regulations on the use of electronic training aids, allowing their use only under the guidance of approved trainers or veterinary surgeons," a spokesperson told the Daily Mirror.
"Details will be determined through discussion with key stakeholders, including animal welfare organizations, and secondary legislation will be prepared for introduction in late 2017."
You can share this story on social media: