Let's stick together! Theresa May will give Trump jars of jam on Washington charm offensive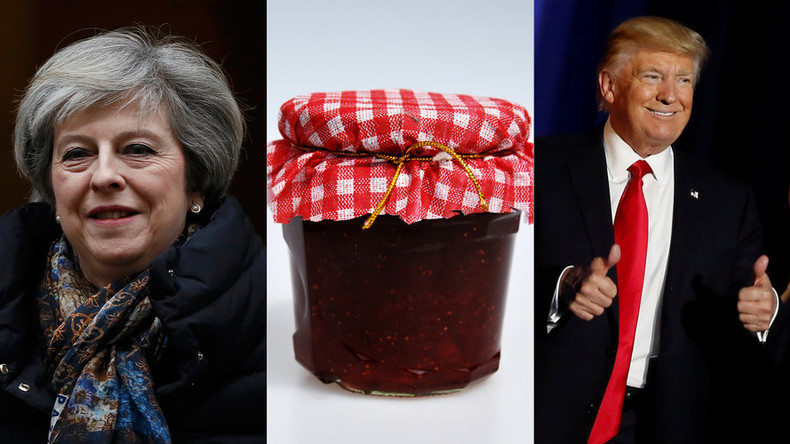 UK Prime Minister Theresa May will apparently deploy jars of jam in her charm offensive during her first official visit to Donald Trump's White House in the hopes of securing a fruitful relationship.
Sticky gifts aside, May plans to use her first audience with the new US president to call for a reinvigorated 'special relationship' between the two countries.
May is due to arrive in the US on Thursday ahead of the meeting on Friday. Spokesmen have indicated she will tell Trump the two of them are well positioned to work together.
At a Republican gathering on Thursday night, May will say: "The leadership provided by our two countries through the special relationship has done more than win wars and overcome adversity. It made the modern world.
"The institutions upon which that world relies were so often conceived or inspired by our two nations working together.
"It is through our actions over many years, working together to defeat evil or to open up the world that we have been able to fulfill the promise of those who first spoke of the special nature of the relationship between us. The promise of freedom, liberty and the rights of man."
May says she "won't be afraid" to speak candidly and has indicated that she does not expect to agree on everything.
The jam will come as part of a gift hamper handed to Trump's wife Melania. Alongside preserves it will contain a range of treats like apple juice, marmalade and "cranberry and white chocolate shorties."
Trump himself will be presented with an old-fashioned Scottish drinking vessel known as a Quaich. Downing Street told the Guardian it would be engraved to serve as "a timeless reminder of the enduring Scottish values of friendship and hospitality."
Civil society groups in the UK have been highly critical of May's reaching out to Trump and of the Special Relationship generally.
Stop the War Coalition (StWC) said in a statement Thursday: "Today Theresa May goes to Washington. Any civilised or sensible government would be breaking links with President Trump but our PM is rushing to be the first foreign leader to meet him. As Trump's aggressive foreign policy becomes ever clearer it is urgent that we end the special relationship now."
Coalition convener Lindsey German also commented personally: 'Trump wants to increase military spending and the level of nuclear weapons. He also supports torture. The special relationship has never benefited the people of Britain.
"With this president it will be positively harmful and should be ended," German said.
You can share this story on social media: