Theresa May won't last & Donald Trump's a 'would-be dictator,' says George Soros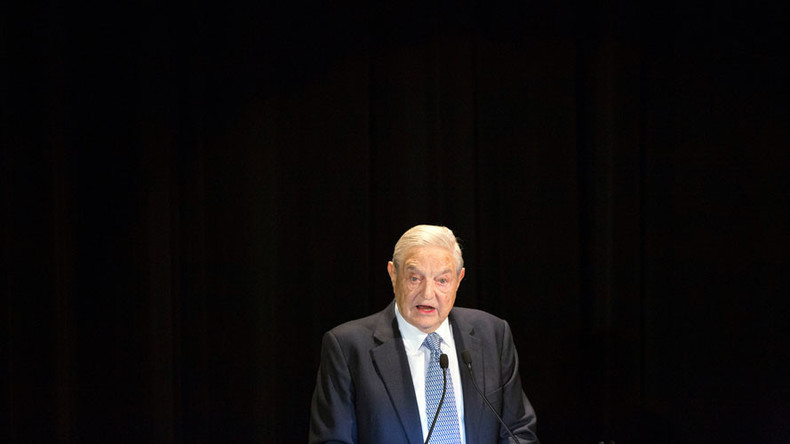 British Prime Minister Theresa May won't last long in office and US President-elect Donald Trump is little more than a "would-be dictator," according to billionaire George Soros.
Speaking on Thursday at the Davos Economic Forum ahead of Trump's inauguration, the investor and philanthropist told the audience of businesspeople and journalists that May would likely not survive the Brexit process, which he predicted, once fulfilled, could see the UK simply rejoin again anyway.
"In my opinion it is unlikely that Prime Minister May is actually going to remain in power. Already she has a very divided cabinet, a very small majority in Parliament. And I think she will not last," Soros said.
"At the moment the people in the UK are in denial. The current economic situation is not as bad as was predicted and they live in hope. But as the currency depreciates, and inflation will be the driving force, this will lead to declining living standards."
He said he hoped the "divorce" would not be a bitter one and that both the EU and UK would see sense in their shared common ground.
However, the entrepreneur saved his harshest words for Trump, saying his fellow tycoon is no more than an "impostor and con-man" who is already "gearing up for a trade war" which would almost certainly have "a very far-reaching effect in Europe and other parts of the world."
He called Trump a "would-be-dictator" who was himself surprised by his win in the presidential race.
"I personally have confidence that he's going to fail … because his ideas that guide him are inherently self-contradictory," Soros predicted.
Soros was a vocal supporter of Hillary Clinton's campaign.
You can share this story on social media: