British tanks sent through Channel Tunnel to prepare for war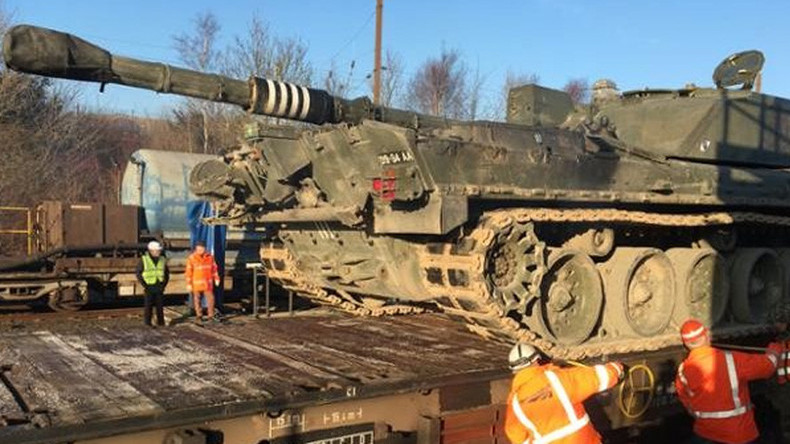 Tanks have been sent through the Channel Tunnel in a secret midnight training operation to prepare for war in Europe.
Five vehicles in total were loaded onto trains, sent through, and then returned to the UK overnight on Wednesday.
Five different types of vehicle were sent in order to ensure that a range of armor could be transported.
A Warrior armored fighting vehicle, a recovery variant of the Warrior, a Challenger 2 main battle tank (MBT), a recovery Challenger, and a reconnaissance vehicle were loaded onto a train at the military's railhead in Wiltshire for the test journey.
The Ministry of Defense (MoD) tweeted a picture of a Challenger being strapped down at around midnight on Wednesday.
It is expected that rail will be the primary means that UK armor will be relocated to Germany in the event of NATO's rapid reaction force being deployed for combat.
Logistics may not be the only issue facing NATO's UK component if it comes to a war in Europe.
In November, it was reported that glitches with the advanced weaponry on the UK's forthcoming Ajax tanks could leave the £3.5 billion (US$4.28 billion) project badly delayed, as questions are raised over the utility of the lightly-armored vehicles against Russian artillery.
A former senior defense official told the Times that Ajax "is fine if you are operating against incompetent enemies, but if you are up against a peer enemy this thing is useless, it's a death trap."
Britain signed a deal with US arms giant General Dynamics for nearly 600 Ajax mini-tanks in 2014 with the first deliveries expected in 2017 and the full order in the UK by 2024.
You can share this story on social media: