'Nothing sexual': Naked maids wanted to clean homes, £45 per hour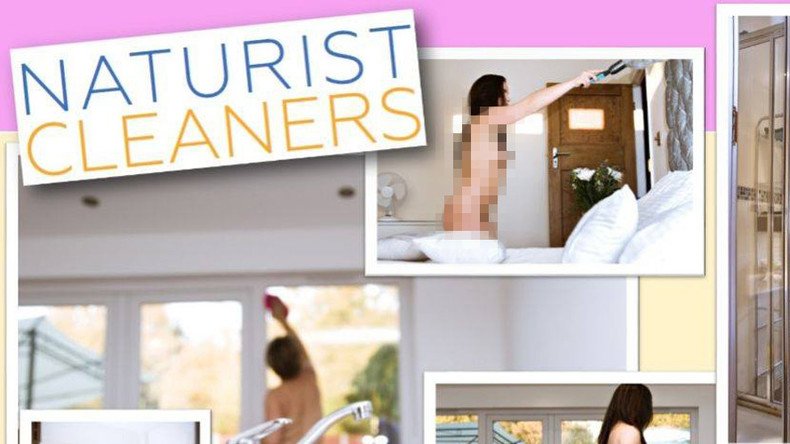 A naturist cleaning company is offering £45 (US$55) per hour for women willing to work entirely in the nude.
London-based Naturist Cleaners is on the hunt for women willing to clean, dust and vacuum homes around the country, wearing nothing but slippers and gloves.
The firm, which offers naked cleaning services for the nudist community, charge clients £65 for the first hour and £55 each hour thereafter, and must agree to a strict "no touch" and no pictures or video policy.
There are three services: one with the client nude, one with the cleaner nude, and the option of both.
An ad, posted on Facebook, reads: "We are looking for female naturist cleaners who can clean private houses nude.
"The job will require doing all general cleaning like dusting, tidying up, vacuuming, watering plants, making beds, using the washing machine, ironing clothes and cleaning windows."
The company, which is looking for part-time cleaners of "all ages and figures," began in London two years ago and is now expanding outside the capital. Local ads are springing up in places like Peterborough, Surrey and Southport.
Owner Laura Smith told ITV she had the idea after a nudist asked if he could be naked while she cleaned for him.
"We started in London two years ago and it's proven really popular, so we're expanding.
"It's a service for the nudist community. We are a cleaning company. There is nothing sexual about the business at all. The majority of our clients are nudist.
"I understand people will think certain things about the company, but there is nothing untoward about it."
In a blog post on the company's website, it says: "There is nothing out there that even comes close to the unique, fun and exciting experience of hiring a maid for a nude cleaning service.
"It's the kind of experience you never forget, and it's the kind of experience that can keep a huge smile on your face for the rest of the week."
You can share this story on social media: