Govt accused of 'criminal neglect' over smog that killed 300 people in 10 days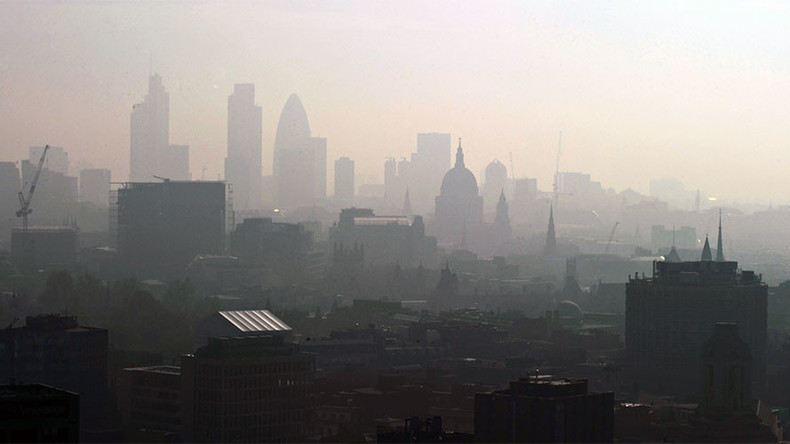 A deadly smog that covered Britain killed 300 people in 10 days, and put another 1,600 in hospital, according to a new report.
The fatal fog during the spring of 2014 was caused primarily by ammonia fertilizer from farms in Europe combined with vehicle and factory pollution from Britain.
At the time, the government said the weather had been caused by 'Saharan dust.'
The number of toxic particles in the air rose to a level more than three times the limit advised by the World Health Organization (WHO).
A new study by Public Health England and the Met Office discovered that over the smog period there were 600 premature deaths due to air pollution – 300 more than normal.
Green Party peer Baroness Jones of Moulsecoomb said more action should have been taken during the smog.
Speaking to the Times, she highlighted tweets sent out at by the Department for Environment, Food and Rural Affairs (Defra), that warned even fit and healthy people should reduce exercise during the smog.
"It is staggering that an extra 30 people a day can die during an air pollution episode, but this government thinks that an anodyne tweet to 5,000 followers is a sufficient response.
"It is criminal by a government that has no desire to protect the health of its citizens and it seems that its sole aim is to downplay the whole thing."
Anna Jones, clean air campaigner at Greenpeace, called the situation a "crisis."
Gary Fuller, a senior lecturer in air quality measurement at King's College London, highlighted the Great Smog of London of 1952 which killed thousands of people and forced the government, led by Winston Churchill, to curb emissions.
Fuller said the smog of 2014 should result in a similar response by today's government.
You can share this story on social media: