'Juvenile delinquent' Nigel Farage has 'no clue' about Brexit, says EU commissioner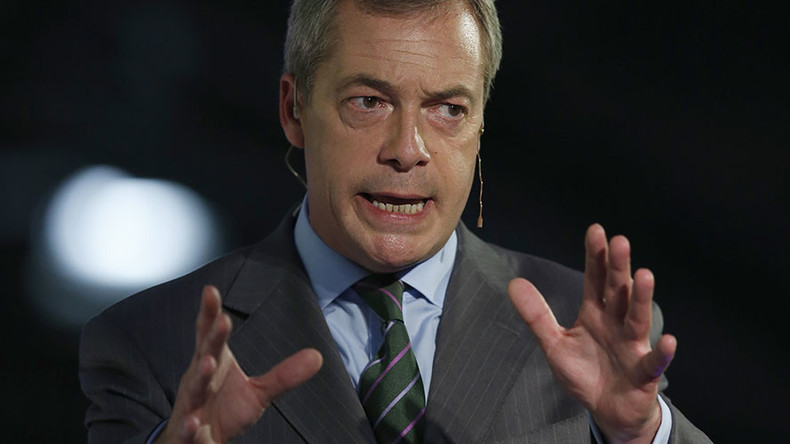 Nigel Farage has been branded a "juvenile delinquent" by European Union Commissioner Phil Hogan, who said the former UKIP leader's efforts to influence Brexit negotiations are pointless and harmful.
In an interview with the Irish Independent on Tuesday, EU Commissioner for Agriculture and Rural Development Phil Hogan urged the MEP to resign and stop behaving like a "juvenile delinquent hanging around corners in Brussels telling others what to do about the EU."
The comments came after Farage said the Republic of Ireland will also want to leave the European Union after Britain triggers Article 50 and formally begins withdrawal negotiations.
Kilkenny-born Hogan said the Euroskeptic politician "completely underestimates Irish people's deep and longstanding links with the peoples of mainland Europe."
He added that, while Farage may have played an important role before the Brexit referendum, he was damaging the negotiations now.
"He has no clue how the country should proceed," said Hogan. "He has demanded that the Prime Minister should produce a plan — but he has none himself."
Farage used the first episode of his new LBC Radio show to attack British Prime Minister Theresa May, arguing that she lacks the skills required to deliver a successful Brexit.
"I honestly don't see that this Prime Minister has got the energy, the excitement or the flair to do it. I'm worried and I fear a very frustrating 2017," he told listeners.
In the months since she took office, May had done "absolutely nothing" about Brexit, he added.
Farage took calls and texts from listeners, some hailing from as far away as the Philippines.
@LBC@Nigel_Farage LOVED YOUR OFFICIAL DEBUT - (just wish you had a bigger slot)!!! Look forward to tomorrow's show! ❤🇬🇧🎉🍾👍❤

— Amy Dalla Mura (@AmyDM) January 9, 2017
However, he was left speechless when a caller named Joe from Crystal Palace argued that leaving the single market would be bad for British business.
After arguing that "Switzerland and Norway are outside the EU, have their own separate arrangements – and they are the two richest countries in Europe," Farage was left dumbstruck when his listener replied that those countries also have freedom of movement.
No one is really interested in what Nigel Farage has to say. I cannot think how the f*** he managed to land a radio show on LBC.

— Kevin TheCob Bolger (@KevPBolger) January 9, 2017
Most of the night's callers admitted to having voted leave, while one said he voted to remain but "respected the fact we are leaving."
The caller, named Chris, also accused Farage of "leading the working class in this country to vote for something that is going to be very bad for them."
You can share this story on social media: