Theresa May hints at 'hard Brexit' outside single market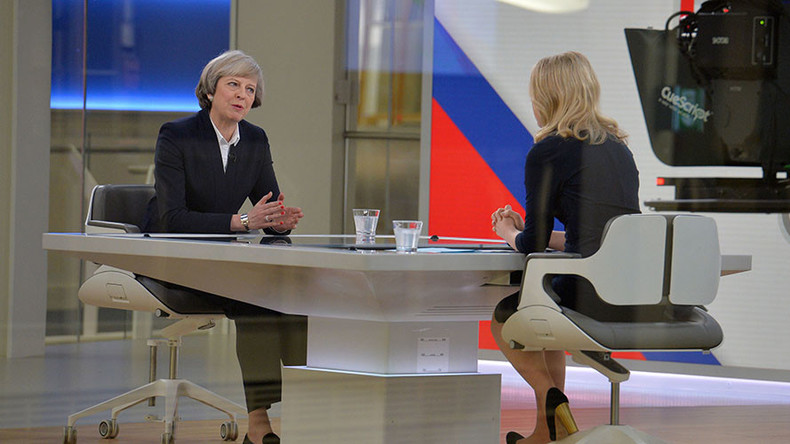 Prime Minister Theresa May has hinted the UK is heading for a 'hard Brexit,' as the country will not seek to "keep bits" of EU membership.
The PM's response to a question on whether Britain will prioritize immigration controls over access to the single market caused the pound to drop on Monday, falling to its lowest level since late October.
In an interview with Sky News, May failed to answer the actual question posed, but instead said her government would try to deliver a "really good, ambitious trade deal."
Leading Brexit campaigner and former Education Secretary Michael Gove has urged the PM to back a 'full Brexit' by leaving the single market and customs union, as opposed to a 'fake Brexit' which would see Britain retaining some elements of membership.
The UK's top diplomat to the EU, Sir Ivan Rogers, resigned last week after describing the government's thinking on Brexit as "muddled."
May denied the government is confused over its EU exit plans, and said she would reveal more of her negotiating aims in the next two weeks.
"Often people talk in terms as if somehow we are leaving the EU, but we still want to kind of keep bits of membership of the EU," she said on the Sophy Ridge on Sunday show.
"We are leaving. We are coming out. We are not going to be a member of the EU any longer."
The PM said she wants to deliver a "really good, ambitious trade deal" that will allow British companies to "trade in and operate in the European single market."
"Our thinking on this isn't muddled at all," she said in response to Rogers' criticism.
The PM appears to be caught between a rock and a hard place, with hardline Euroskeptics demanding 'full Brexit' while other Tory MPs are campaigning for a 'soft Brexit.'
Businessman Sir Andrew Cook, a major Tory donor, has warned he will no longer give money to the party if it backs leaving the single market.
Writing for the BrexitCentral website, ex-minister Gove said: "We need to deliver a full Brexit, not settle for fake Brexit. Once Article 50 is triggered, we should be very clear about our simple, straightforward, generous approach to leaving.
"We don't want or need to be in the single market – outside we can control our own borders, laws and taxes. Inside we're trapped. We don't want to be bound by being members of the customs union. Outside we can negotiate new trade deals with emerging economies.
"And we don't need to waste months talking about new tariffs. We don't have any at the moment with Europe, we don't want to impose any and attempts to over-complicate the issue are a trap."
You can share this story on social media: