Prototype laser weapon developed with £30mn of army funding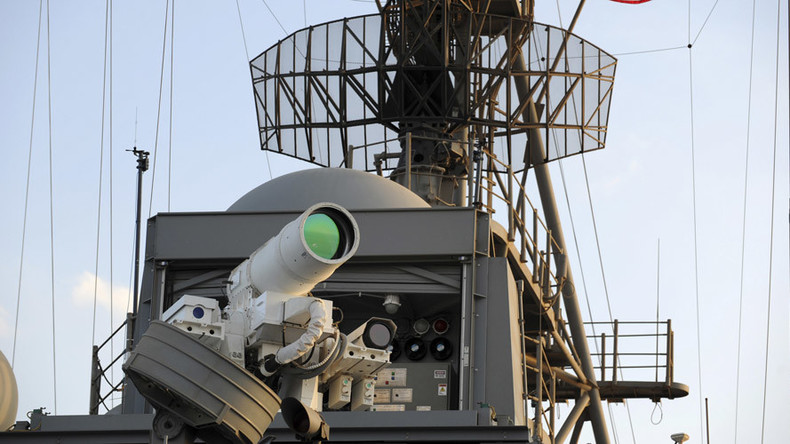 Britain's military has awarded a £30 million ($36.9 million) contract to a consortium of arms firms to build a directed energy weapon similar to those already trialled in the US.
The deal was struck with the Dragonfire consortium, which is made up of UK and European firms, including BAE System, MBDA, and Qiniteq.
The project will now set out to examine how different types of laser weapons operate over certain distances and in particular weather conditions.
Senior Ministry of Defence (MoD) specialist Peter Cooper from the Defence Science and Technology Laboratory (DSTL) told the BBC that the process will draw "on innovative research into high power lasers so as to understand the potential of the technology."
While the weapon is not being developed for a specific threat, DSTL hopes it will "provide a more effective response to the emerging threats that could be faced by UK armed forces."
The US Navy has already field-tested a deck-mounted laser weapon and used it to hit targets aboard a small boat, and to shoot down a drone.
Directed energy weapons could also be used to shoot down mortars and missiles, and destroy roadside bombs, which have taken such a heavy toll in Iraq and Afghanistan.
The deal was reached following a competition, launched in September, in which different firms competed to provide the new demonstrator.
The new project is part of the Ministry of Defence's new £800 million innovation scheme.
In a statement on the MoD website at the time, the department announced that as well as "airborne threat-targeting laser weapons" the military would be exploring ways to develop "life-saving vital signs monitors, cutting edge anti-missile systems, tiny insect-inspired surveillance drones and quantum gravitational detectors, advanced protective materials."
UK Defence Secretary Michael Fallon said that the UK has a long-standing "reputation as a world leader in innovation," and that the new scheme would keep the country "ahead of the curve" while delivering a "safer and more prosperous Britain."
You can share this story on social media: