Military 'finalizing £30mn deal' for lazer weapon prototype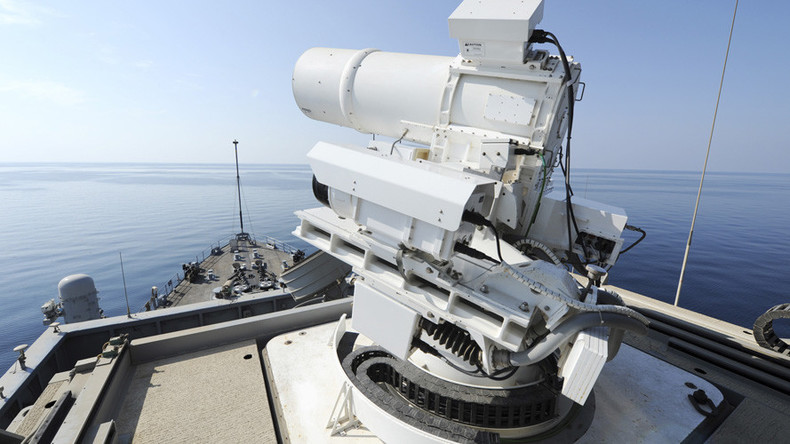 Britain's military is about to close a deal to develop a £30 million lazer which could "transform weapons technology of the future," according to Defence Secretary Michael Fallon.
The new project is part of the Ministry of Defence's (MoD) new £800 million (US$1.04 billion) innovation scheme.
In a statement on the MoD website, the department announced that as well as "airborne threat-targeting lazer weapons" the military would be exploring ways to develop "life-saving vital signs monitors, cutting edge anti-missile systems, tiny insect-inspired surveillance drones and quantum gravitational detectors, advanced protective materials."
Fallon himself said that the UK had a long-standing "reputation as a world leader in innovation" and that the new scheme would keep the country "ahead of the curve" while delivering a "safer and more prosperous Britain."
The military said that the Laser Directed Energy Weapon (LDEW) Capability Demonstrator would be delivered by 2016.
Arms firm MBDA UK Ltd says the aim is for it to be able to "acquire and track targets at range and in varying weather conditions over land and water, with sufficient precision to enable safe and effective engagement."
"It could be employed to protect our maritime and land forces; for example, ships from threat missiles or soldiers from enemy mortars," the MoD statement added.
The MoD also recently launched a competition to see who can come up with the best way to develop drone swarms which could be controlled by a lone operator.
The 'Many drones make light work' challenge will see firms and drone experts compete for grants to develop the first generation of Unmanned Air System (UAS) swarms for use in combat zones.
A total of £3 million in taxpayers' money is available to be shared between the winners of the competition, which is being fronted by the Centre for Defence Enterprise (CDE) and the Defence Science and Technology Laboratory (DSTL).