Anti-Islam 'Gays for Trump' leader is offered 'wheelbarrow of money' for book deal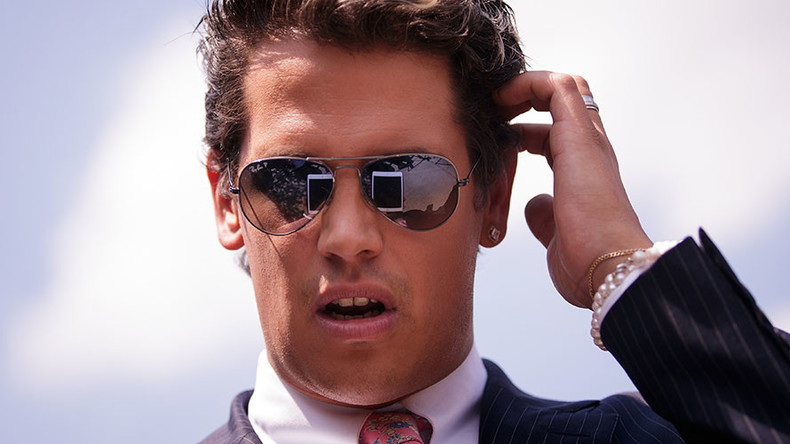 Authors are threatening to leave publishing house Simon & Schuster in protest at its decision to publish the autobiography of a controversial British writer who is a hero of America's alt-right movement.
Milo Yiannopoulos, editor of the conservative Breitbart News site, has reportedly negotiated an advance of £200,000 ($250,000) with Threshold, a conservative imprint of publisher Simon & Schuster.
Yiannopoulos told the Hollywood Reporter, which broke the news of the deal, that he met with top Simon & Schuster executives and "spent half an hour trying to shock them with lewd jokes and outrageous opinions." He said he "thought they were going to have me escorted from the building - but instead they offered me a wheelbarrow of money."
The news has sparked outrage among many, who say he should not have a platform to share his views.
Yiannopoulos, 33, is a conservative who led the "Gays for Trump" movement in the 2016 US election. He has labelled transgender people as "mentally ill," called feminism "cancer," says the Black Lives Matter movement is a "hate group," and is openly anti-Islam, saying the US has a "Muslim problem."
Karen Hunter, a black US radio talkshow host and bestselling author, has said she is "rethinking" her relationship with the publisher, according to The Times.
Danielle Henderson, a black American television writer and author, tweeted: "I have calls in with my editor, agent and lawyer. This is too personal for me to ignore."
Leslie Jones, who starred in the movie Ghostbusters and was subjected to abusive tweets that led to Yiannopoulos being banned from Twitter last year, also criticized the publisher, accusing it of letting people like him "spread hate."
The Chicago Review of Books called the decision to publish the book "a disgusting validation of hate" and announced it would not review any titles published by Simon & Schuster this year.
The criticism appears to have backfired, however, as the book, called Dangerous, has reached Amazon's bestseller list two months before it is published.
Yiannopoulos said: "I'm hugely indebted to the small but vocal band of agitators in the publishing industry absurdly trying to suggest I'm some kind of far-right bigot. I wonder what free marketing these idiots have planned for me when the book hits the shelves?"
On Tuesday night, The Bookseller reported that the publisher's UK arm would not be publishing the book. Its US branch, however, appealed to critics to withhold judgment until they have read the book.
You can share this story on social media: