Twitter bans & reinstates gay conservative journalist who criticized Islam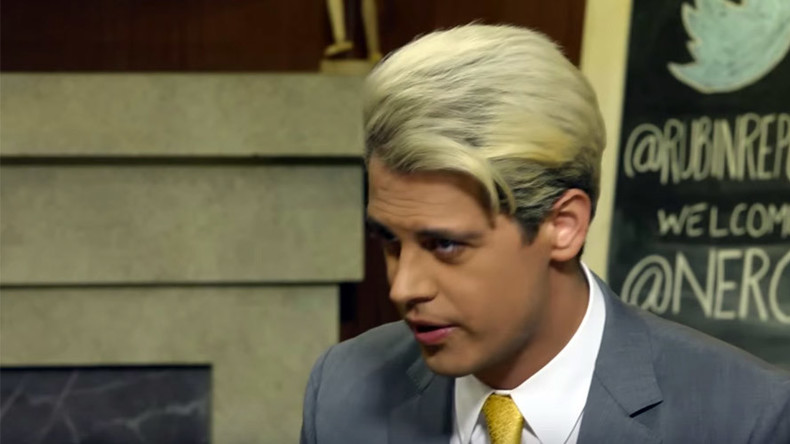 Conservative commentator Milo Yiannopoulos was briefly suspended from Twitter after making anti-Islamic tweets just days before the journalist was set to give a press conference on Islam at the site of the Orlando terrorist attack.
The outspoken internet icon was suspended from the social networking site on Wednesday morning for reasons that are still unclear. However, Yiannopoulos had been blasting Islam in the days following the shooting, saying that the religion is not compatible with gay rights, women's rights, and a free society, among other things.
The Los Angeles-based Breitbart Tech editor was subsequently the target of Muslim backlash. His tweets were inundated with replies written in Arabic after major Arab figures on Twitter reportedly put out a call to arms.
The suspension led to a massive backlash, as conservatives on the social media site got the #FreeMilo hashtag trending, and the right-leaning Drudge Report made Yiannopoulos' ban its top story.
Twitter's suspension of Milo proves he was right; The left has politically chosen to protect Muslims' feelings over protecting gay lives.

— Paul Joseph Watson (@PrisonPlanet) June 15, 2016
Yiannopoulos learned of his suspension while on camera with Vice Media co-founder Gavin McInnes, but didn't appear particularly surprised.

WARNING: Explicit language.
"The primary investor is a f*cking Saudi," Yiannopoulos said in the video, referring to billionaire Saudi Prince Alwaleed. "The Saudis own Twitter."
Yiannopoulos' Twitter account was reinstated within an hour, but the London native said his account returned with tens of thousands of followers missing.
He said that the Breitbart team had approached Twitter for an explanation, sarcastically asking Twitter CEO Jack Dorsey, "Do we have to do it in Arabic?"
We're approaching Twitter for comment. Do we have to do it in Arabic, @jack?

— Milo Yiannopoulos ✘ (@Nero) June 15, 2016
The controversial journalist is scheduled to give a talk as part of a countrywide tour titled "Absolutely Haram: Islam versus Gays" at Pulse, the LGBT nightclub in Orlando, Florida where a Muslim gunman massacred 49 people and injured 53 others early on Sunday morning. He will be accompanied by a private security team.
Another speech, scheduled to be held at the University of Central Florida in Orlando, was cancelled by the campus police department after officials said that they couldn't ensure the safety of the event.
The openly gay Trump supporter has been on the receiving end of Twitter staff's ire before. In January, the social media site removed verified status of Yiannopoulos' account, as well as the associated blue checkmark.
"His unverification appears to be the first time a major media personality has been stripped of a blue badge by Twitter," Breitbart reported at the time. "The company refuses to be drawn on why it had taken the popular journalist and commentator's verified status away."