Cannabis medicine will soon be legally available in UK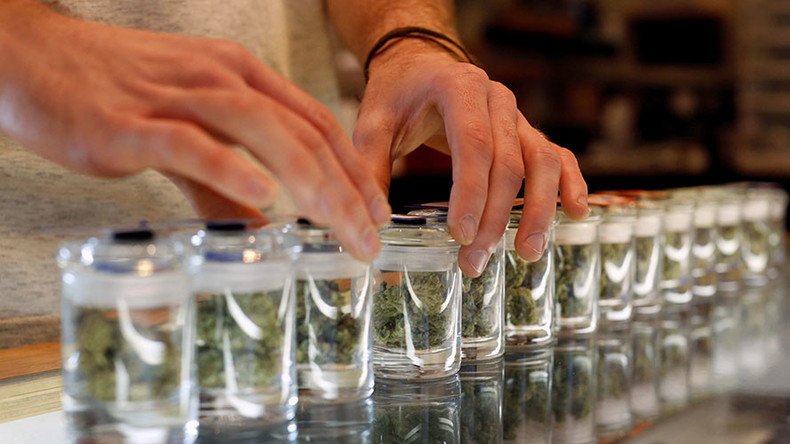 One of the main ingredients in cannabis, cannabidiol (CBD), is to be classed as a medicine in the UK. The decision by the Medicines & Healthcare products Regulatory Agency (MHRA) stems from claims that the drug successfully treats serious diseases.
The new classification means products containing CBD can now be legally distributed across the UK. Gerald Heddel from MHRA told Sky News that the change came about "based on the fact that we noted that people were making some quite stark claims about serious diseases that could be treated with CBD."
Alongside Tetrahydrocannabinol (THC), CBD is one of the main components of cannabis, accounting for 40 percent of the marijuana plant's extract. Unlike THC, which is psychoactive, CBD is non-psychoactive, antipsychotic and does not cause anxiety.
READ MORE: Marijuana use jumps among pregnant women in US – report
The compound's lack of a high makes it less appealing to recreational users but of particular interest to the medical community, with campaigners claiming it aids in easing pain related to diseases including cancer, depression, Crohn's disease, and post-traumatic stress disorder (PTSD).
"It was clear that people are using this product with the understandable belief that it will actually help," Heddel said.
"MHRA will now work with individual companies and trade bodies in relation to making sure products containing CBD, used for a medical purpose, which can be classified as medicines, satisfy the legal requirements of the Human Medicines Regulations 2012," an MHRA spokesperson said in a statement, adding that 18 companies have been advised of their change in opinion.
Last month, researchers from the University of Alabama found CBD reduces both the frequency and severity of epileptic seizures in both children and adults. In two-thirds of the 81 participants the severity was reduced by at least 50 percent.
During 2016, an increasing number of MPs called for "root and branch" reform of Britain's "failing" drug policy, with a cross party report indicating that the exchequer could increase its tax revenue by as much as £1 billion (US$1.23 billion) a year through the legalisation of cannabis.
READ MORE: Legalize cannabis to end Britain's 'embarrassing' drugs policy, say MPs
You can share this story on social media: