Ministers 'ignore' PM's Farage ban to build links with Donald Trump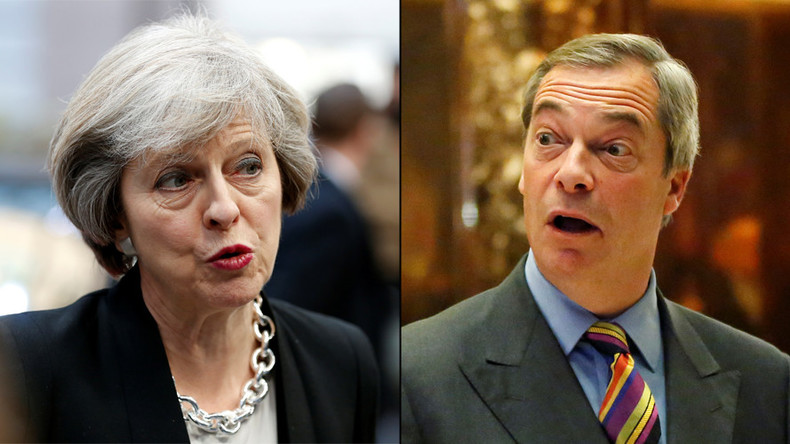 Tory ministers are finding ways to circumvent UK Prime Minister Theresa May's reported ban on talking to UKIP's Nigel Farage, so they can build relationships with US President-elect Donald Trump, according to inside sources.
A Telegraph exclusive claimed on Sunday that ministers were defying the prime minister's ban on speaking to the right-wing populist by using middlemen and mobile phones as a discreet back-channel between themselves and the Farage camp.
Farage appeared on stage with Trump during the latter stages of his election campaign, and has reportedly visited the president-elect's New York stronghold three times in the last four weeks.
Rumors abound that Farage – a serving UKIP MEP – could be appointed as a trade ambassador to the US due to his close connections with the incoming administration.
Reports include a claim that one discreet intermediary got in touch with Farage within the last fortnight to ask "how can [the Cabinet minister] get hold of Nigel discreetly?"
Another source from the Farage camp told the Telegraph: "They all want to speak to Nigel Farage but they can't. They are all playing their cards close to their chest because they have to."
After claiming he had been blacklisted by the Tory leadership, Farage told the BBC he was keen to act as a bridge between the two nations and was well positioned to play the part.
"If you wanted to get business from the biggest company in the world and there was someone there that had the contacts and connections, the first thing you do is to employ that person," he said.
"I find the fact that Downing Street don't want to acknowledge me, have banned Cabinet ministers from even talking to me, it shows you the sort of very small-minded, petty, tribal level that British politics is at – it's a shame."
Downing Street did not comment, but serving Trade Minister Liam Fox told the BBC that he knew nothing about the supposed ban, which appears to have originated with Farage himself.