Farage undermines PM Theresa May again with 3rd Donald Trump meeting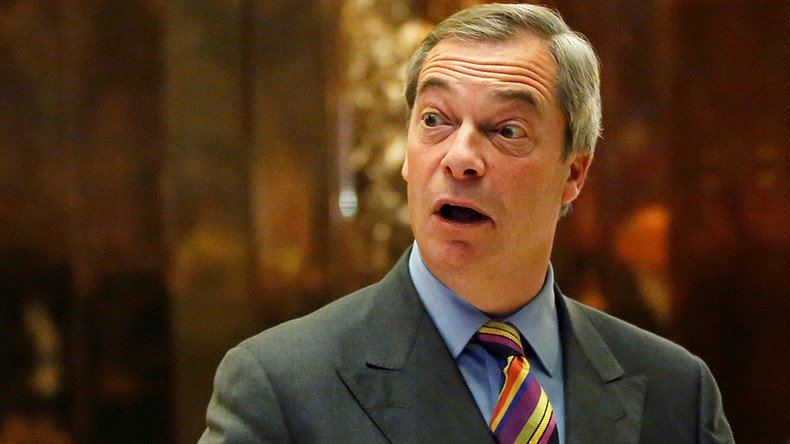 Former UKIP leader Nigel Farage has visited Trump Tower in New York for the third time, in what is likely to be a major embarrassment to UK Prime Minister Theresa May, who has yet to meet the US president-elect.
US news reporters confirmed Farage entered the lobby of Trump Tower in New York at 2:23pm (EST) and went up in the elevator which takes visitors to Donald Trump's office.
Farage was photographed grinning as he entered the foyer, but did not speak to reporters.
British politician Nigel Farage met with President-Elect Trump for the 3rd time on Thurs amid rumors he will be picked as a UK/US adviser. pic.twitter.com/jAls1L5jqp

— Michael Delauzon (@MichaelDelauzon) December 16, 2016
Although it is unknown if Farage met with the president-elect, if he did it would be his third meeting since Trump won the US election last month.
The visit will further annoy the PM, who has yet to meet Trump and has only spoken to him briefly by phone.
It comes after Farage reportedly went to a fancy dress party with Trump in Long Island New York earlier this month, where the British politician dressed as Lord Nelson.
Farage's burgeoning 'bromance' with Trump was raised to new heights last month, when the leader-in-waiting broke with diplomatic convention to suggest the former UKIP chief should be made ambassador to the United States.
Downing Street dismissed the idea, saying there is "no vacancy" for the post.
With May increasingly isolated in Europe, Farage's close connections with Trump will prove highly frustrating to the PM, who has promised to preserve Britain's "enduring and special relationship" with the US.
Last week the Telegraph reported Farage could be given an informal role advising Trump on UK-US relations.
Former Breitbart boss and key Trump aide Steve Bannon told Bloomberg earlier this month that: "His ideas will always be listened to seriously in a Trump White House."
A spokesman for US Senator Rand Paul added that his boss "…looks forward to supporting a robust post-EU trade deal with the United Kingdom. Nigel Farage will be an essential part in implementing a new treaty."
Farage himself told Bloomberg he is promoting the idea of "resetting the US/UK relationship. It would be a great thing to do in terms of trade."
"I also see Britain as a massively important bridge between America and the rest of NATO, because NATO itself needs to have a conversation about its future in the modern world."
You can share this story on social media: