'Auschwitz a theme park': Blogger in court for UK's first anti-Jewish racism private prosecution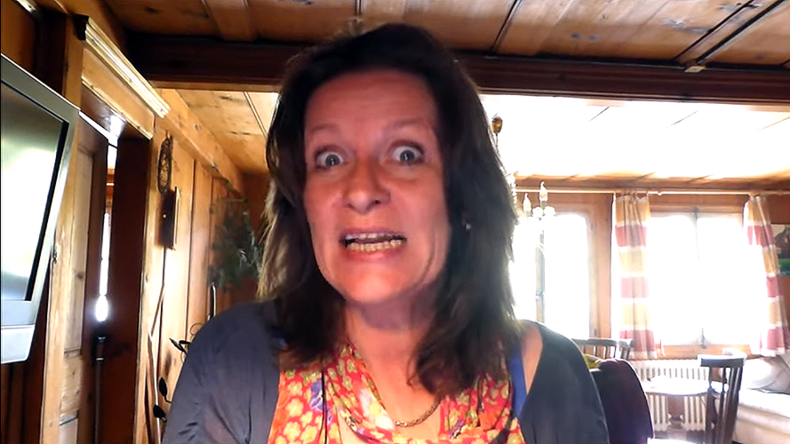 A Derbyshire blogger, who is accused of posting a video calling Auschwitz a "theme park" and gas chambers a "hoax," has appeared in court in what is believed to be the first private prosecution in the UK for anti-Jewish racism.
Alison Chabloz, 52, is accused of posting what the prosecution calls a "grossly offensive" video online in June this year. The video is said to contain a song she had written called 'Survivors.'
The case was brought by the charity Campaign Against Anti-Semitism (CAA) after, it says, the Crown Prosecution Service (CPS) did not press charges.
The video allegedly includes lyrics such as "Did the Holocaust ever happen? Was it just a bunch of lies? Seems that some intend to pull the wool over our eyes."
Other song lyrics are said to be: "Now Auschwitz, holy temple, is a theme park just for fools, the gassing zone a proven hoax, indoctrination rules."
"History repeats itself, no limit to our wealth, thanks to your debts we're bleeding you dry.
"We control your media, control all your books and TV, with the daily lies we're feeding, suffering victimization.
"Sheeple have no realisation, you shall pay, all the way, until the break of day."
According to the Daily Mail, prosecutor Jonathan Goldberg QC said: "The very reason why the charity is making an example of this case is because of their disappointment that the Crown Prosecution Service have investigated 15,442 cases in recent times, but only 12 of those cases have involved anti-Semitic hatred.
"Even though the fact is this phenomenon has grown enormously in our society at alarming proportions."
Chabloz is charged with improper use of a public communications network, and appeared at Westminster Magistrates' Court on Thursday to enter a not guilty plea.
An application by the defense to adjourn the case on the grounds that it was a "malicious prosecution" was rejected by the judge.
The trial date has been set for March 24 next year.
This week, it was announced that Britain would become one of the first nations to adopt an official definition of anti-Semitism, following an increase in the number of reported incidents targeting Jews.
The text states that "anti-semitism is a certain perception of Jews, which may be expressed as hatred toward Jews. Rhetorical and physical manifestations of anti-semitism are directed toward Jewish or non-Jewish individuals and/or their property, toward Jewish community institutions and religious facilities."
Although the British Police currently use a version of this definition, official adoption would also mean it will be used by councils, universities, and other public institutions.
You can share this story on social media: