3-parent babies can now legally be born in Britain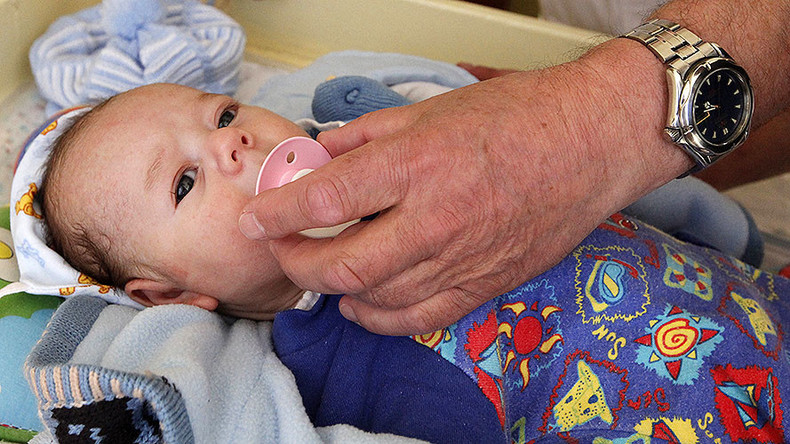 The UK's first three-parent baby could be born as early as next year as the controversial mitochondrial replacement therapy (MRT) was approved by Britain's fertility regulator on Thursday.
The treatment will be made available to women who are in danger of passing on devastating and often fatal genetic disorders to their children.
Doctors in Newcastle, who pioneered the advanced form of IVF, are expected to be the first to offer the procedure and have already appealed for donor eggs. They reportedly hope to treat up to 25 women a year with National Health Service (NHS) funding.
Babies born after MRT would effectively have three genetic parents. A tiny proportion of their DNA would come from their mother, father and a third person, a female egg donor, to replace abnormal genes in the mitochondria.
Mitochondria only hold around 0.1 percent of a person's DNA, which is always inherited from the mother.
Abnormal mitochondrial DNA can lead to potentially fatal conditions affecting vital organs, muscles, vision, growth and mental ability. Such defects are said to affect one in 4,000 people.
Sally Cheshire, the chairwoman of the Human Fertilization and Embryology Authority (HFEA), which approved the therapy on Thursday, said "it is a decision of historic importance."
"This is about cautious go ahead, not gung-ho go ahead, and there is a long way to go," she told the BBC.
"I'm sure patients will be pleased by what we've decided today."
Earlier this month, an independent panel of experts recommended the treatment's "cautious adoption," saying "significant progress had been made" to improve the reliability of the procedure. But they warned that patients "should be made aware that there can be no guarantee of safety and efficacy."
Some scientists have questioned the ethics of the technique, saying it could open the door to genetically-modified 'designer' babies and eugenics.
Others have raised concern that the therapy could alter the DNA of an embryo in a way that could be passed on to future generations.
The first baby to be born using the technique was delivered in Mexico in April. The baby boy was reportedly healthy, experts said in September.
You can share this story on social media: