Commando's murder appeal could 'define future' of war crimes trials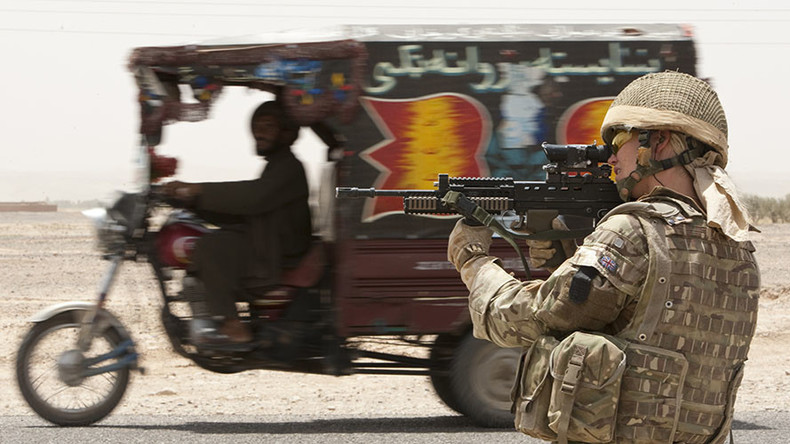 A new appeal for a royal marine convicted of carrying out a battlefield execution in Afghanistan could become a landmark case for UK war crimes trials, according to the Criminal Cases Review Commission (CCRC).
The new hearing coincides with reports that all killings by British soldiers during the era of the Northern Ireland troubles are to be reinvestigated.
Alex Blackman was convicted of killing a wounded Afghan fighter with a handgun during intense fighting in Helmand in 2011. The incident was recorded on a comrade's helmet camera.
He was given a ten-year life sentence, which was later reduced to eight. On Wednesday, it emerged that his second appeal has been accepted by the CCRC on the basis of new evidence concerning Blackman's mental health at the time.
On Thursday, more details emerged regarding the case, including a letter sent early in the 11-month reinvestigation from the CCRC's Sally Berlin to Blackman's lawyers.
"As a relatively recent 'war crimes' conviction, arising from an incident in a relatively recent conflict, the safety of this conviction and outcome of the case has a potential to be 'landmark,'" Berlin wrote, according to the Daily Mail.
She also referred to the Iraq Historical Allegations Team (IHAT), a group set up to look at hundreds of allegations of abuse during the UK's occupation of Iraq.
"The investigations currently being carried out by IHAT may lead to UK soldiers who fought in the Iraq war being prosecuted for war crimes. It is important this case be resolved as early as reasonably possible as it has the potential to impact on decisions in that context," she wrote.
She also said that the decision to consider the appeal was made partly due to the fact that UK troops are still engaged in operations, and so there is an urgent need to clarify what constitutes a war crime.
"The outcome of this case, whatever that will be, will assist with that clarity," she said in the correspondence.
Northern Ireland
The details of the letter emerged as it was reported that all 302 killings by British soldiers in Northern Ireland could be reinvestigated.
According to the Murdoch-owned Sun tabloid, this could mean that up to 1,000 former soldiers – some in their 70s – could face investigation for their roles in killings.
Tory MP and former army officer Johnny Mercer told the paper: "This is a brand new witch hunt, as well as a total and complete betrayal by the Government of those who have done its bidding.
"If we could demonstrate in Government just some of the courage our Armed Forces have displayed over the years in Northern Ireland, the entire historical allegations money machine would end," he said.
Though it presented no evidence, the Sun also claimed that the investigation had been opened by the Police Service of Northern Ireland (PSNI) under pressure from Sinn Fein politicians.
A spokesman for Northern Ireland Secretary James Brokenshire told the paper: "Police investigations are always a matter for the PSNI, who act totally independently of Government."
"While this Government firmly believes in upholding the rule of law, we are concerned that investigations into Northern Ireland's past focus almost entirely on former police officers and soldiers," the spokesman added.
You can share this story on social media: