Pro-Brexit Boris Johnson accused of privately supporting EU freedom of movement
Published time: 1 Dec, 2016 08:23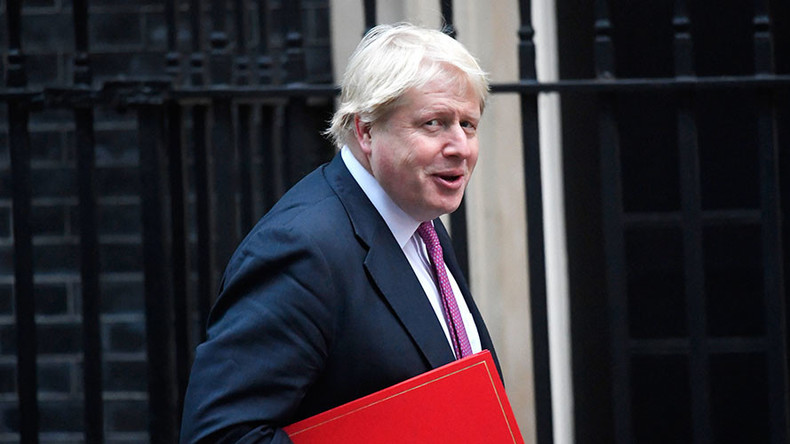 Boris Johnson has denied claims that he supported the idea of free movement within the EU during private talks with ambassadors. The foreign secretary openly warned against unrestricted free movement while campaigning for the UK to leave the EU.
Four EU ambassadors told Sky News that Johnson expressed support for free movement, with one saying he had made the remarks at an ambassadors' luncheon.
Johnson "told us he was personally in favor of it, but he said that Britain had been more affected by free movement of people than other EU member states," a second ambassador said.
Another claimed that Johnson "did say he was personally in favor of free movement, as it corresponds to his own beliefs. But he said it wasn't government policy."
"Boris Johnson has been openly telling us that he is personally in favor of free movement," a fourth ambassador said.
The four ambassadors spoke to the news outlet under Chatham House rules, which allows their comments to be reported, but not directly attributed.
When a fifth ambassador was asked by Sky News to corroborate the testimonies of his colleagues, he said he had not heard Johnson's remarks, but was quick to criticize the foreign secretary anyway.
"Johnson has no credibility with the ambassadors – they don't care what he says," he stated.
Responding to the report, a spokesman for Johnson denied the ambassadors' claims, saying that "Boris said what he has said many times before – he is pro-immigration but wants to take back control to limit numbers."
"He did not say he supported freedom of movement and challenges anyone to show proof that he ever said that," the spokesman continued.
Contradictory opinions?
If the ambassadors' claims are true, it would represent a departure from Johnson's public position during the Brexit campaign, during which he was a strong advocate of the UK's departure from the EU.
Speaking out against unlimited freedom of movement ahead of the referendum in May, Johnson said: "I'm pro-immigration, but above all I'm pro-controlled immigration. People of all races and backgrounds in the UK are genuinely concerned about uncontrolled immigration and the pressure it's placing on local services. People have every right to question why we can't control our borders. We need to answer those concerns by taking back control of those borders."
In fact, just two weeks ago Johnson said that it was "b*****ks" that freedom of movement was a fundamental principle of the EU.
"It is stupid to say that freedom of movement is a fundamental right. It's something that has been acquired by a series of decisions by the courts," he said, as quoted by Czech newspaper Hospodarske.
"And everyone now has in his head that every human being has a fundamental, God-given right to go and move wherever he wants. But it is not," he stressed.
Former Deputy Prime Minister and Liberal Democrat MP Nick Clegg – a strong supporter of the push to remain in the EU – has said that "if these reports are to be believed, then Boris Johnson, the figurehead of the Brexit campaign, is treating voters like fools. It now appears he never even believed in the central message of the Brexit campaign: to end freedom of movement," as quoted by the Guardian.
Johnson's alleged support for freedom of movement would also go against the stance of Prime Minister Theresa May, who appointed Johnson to his current post of foreign secretary.
May has promised to invoke Article 50, which will trigger the process by which the UK will leave the EU, by March, and stressed that after separating fro