No amigos? Top British political figures snub Castro's funeral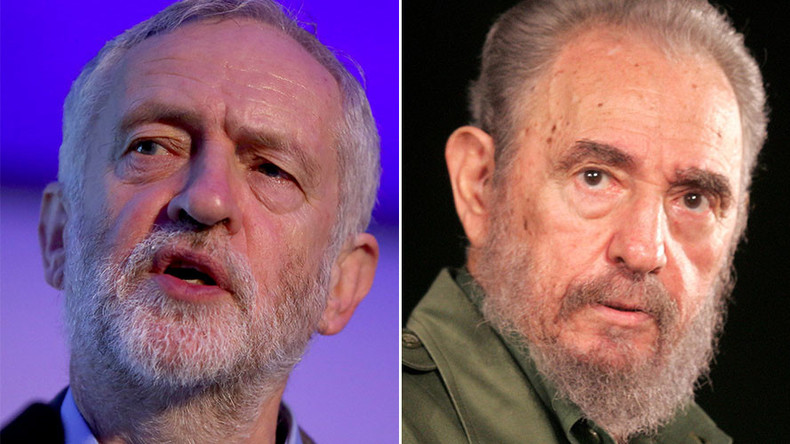 Senior members of the British government will snub the funeral of Cuban revolutionary leader Fidel Castro. Prime Minister Theresa May failed even to issue a statement on Castro's death over the weekend.
Labour Party leader Jeremy Corbyn, too, has chosen not to attend, after initially suggesting he would. His Shadow Foreign Secretary Emily Thornberry will take his place on the December 4 ceremony.
Senior figures in most Western governments are not expected to travel to Havana, including British Foreign Secretary Boris Johnson, who will send Foreign Office minister Alan Duncan instead. PM May is yet to comment on Castro's death.
Following Castro's death Corbyn was quick to share his sentiments to the Castro family, describing the former Cuban president as a "huge figure of modern history, national independence and 20th Century socialism."
"From building a world-class health and education system, to Cuba's record of international solidarity abroad, Castro's achievements were many," he added.
"For all his flaws, Castro's support for Angola played a crucial role in bringing an end to apartheid in South Africa and he will be remembered both as an internationalist and a champion of social justice."
His words were scoffed at by the national press, which called Corbyn an "ultra left-winger" and predicted his approval ratings would go "down yet another notch" if he attends the funeral.
Thornberry came to Corbyn's defense, suggesting that although Castro was a "hugely divisive figure," Cuba sets an example for health services worldwide.
"I went to Cuba in the early 1990s when there was great economic difficulties in that country," Thornberry said on the BBC Andrew Marr Show on Sunday.
"I found a country that was egalitarian with a fantastic health service, I had my baby with me, we had to go off and see the doctor and we were really struck by it."
She insisted that Corbyn had "tried to put forward both sides." Cuba, she said, is "a brave island that stood against a regime that for 50 years would not trade with it and would not let other countries trade with it too.
"Not only did they stand firm and strong they also exported their values across South America and into Africa, producing doctors and nurses and teachers."
Labour insist no decision taken yet on whether Jeremy Corbyn will attend Castro's funeral. "No invitation has even been received yet".

— Kevin Schofield (@PolhomeEditor) November 28, 2016
Corbyn's recognition of the former Cuban president follows Sinn Fein leader Gerry Adams' own intent to fly over for the funeral. Adams tweeted on Monday he is "heading [for] Havana." It might make him one of the few Western political leaders to attend the event.
In the US, President Barack Obama and Secretary of State John Kerry have been told not to visit Cuba for the occasion. Former House of Representatives Speaker Newt Gingrich said "under no circumstance" should they go to Havana.
Senator and former presidential hopeful Marco Rubio echoed the sentiment, saying: "I would hope that [the Obama administration] would send no one to the funeral."
Castro, who died in the early hours of Saturday November 26, was cremated the following day. His remains will lie in state on Monday and Tuesday before they are taken along the 900km route to Santiago de Cuba – the reverse journey of that once made by the 'Caravan of Freedom' Castro led in 1959 during the Cuban Revolution.
His ashes will be placed in a cemetery in Santiago de Cuba on December 4.