Trump is 'a joke' who has offended every US ally, says Britain's ex-foreign secretary
Published time: 22 Nov, 2016 14:49
Edited time: 23 Nov, 2016 14:03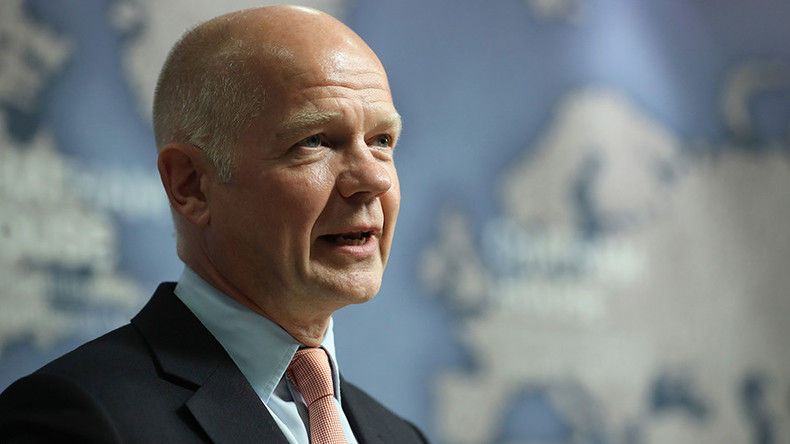 In electing Donald Trump, the US has handed power to 'a joke' who offends everybody he meets, according to former Tory Foreign Secretary William Hague.
Hague, who served as Tory leader from 1997 to 2001, blasted his fellow conservative in a speech at Grosvenor House Hotel in London on Monday night.
"The last time I was here I did tell you a lot of jokes and stories about politics, but the trouble now with political jokes is that they have started to get elected," he told the audience.
To illustrate his point, Hague read out a fictional letter addressed to him from Trump.
"You all know that I believe in the special relationship with your country, which is just as well as I've already pissed off most of the others," the letter lampooned.
"And you also know I am committed to building the biggest wall ever to keep out Mexicans, which is where you come in — and they don't," it went on.
"So God bless America, God bless our wall and God bless the voters, who will believe anything," it finished.
In January, after Trump said Muslims would be banned from entering the US, a petition to ban him from the UK gained over 500,000 signatures.
The government ruled against a ban, although then-Home Secretary Theresa May's spokesperson said "coming to the UK is a privilege and not a right and she will continue to use the powers available to prevent from entering the UK those who seek to harm our society and who do not share our basic values.
"Exclusion powers are very serious and are not used lightly. The Home Secretary will use these powers when justified and based on all available evidence."
Now prime minister, Theresa May has announced plans for a state visit by President-elect Trump to the UK at the earliest opportunity.