'UK media failed to recognize reasons for Trump mass appeal'
Published time: 11 Nov, 2016 12:21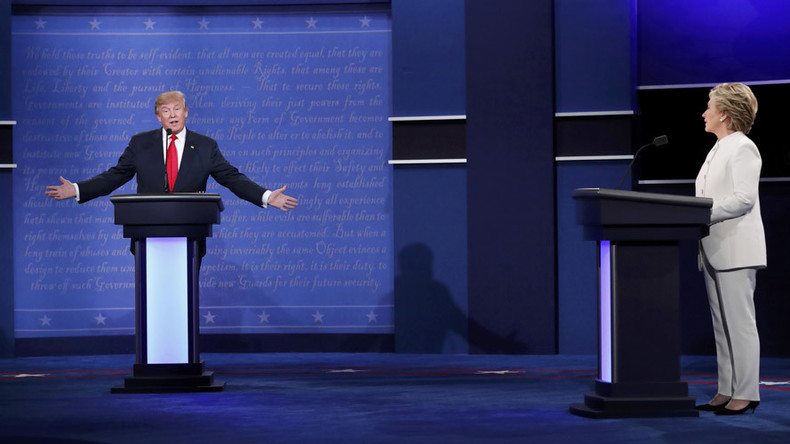 British MPs sat around in the House of Commons in January and discussed banning the new President of the US from the UK, said Katie Hopkins, broadcaster and mailonline.com columnist. Lee Jasper joins the debate.
RT: Katie, are you packing your bags? And just sum up why this victory appeals to so many people?
Katie Hopkins: I have been predicting that Donald Trump would win for a very long time. One of the things here in the UK is that nobody was giving the guy any credibility whatsoever. Our MPs sat around in the House of Commons and even discussed banning the new President of the US in January 2017 – banning him from the UK. And our media did a really completely hopeless job of recognizing why he would appeal to the people, why he would matter to regular Americans, who want their jobs back, who care about manufacturing and are sick of seeing people able to migrate to their country and very often get better healthcare, better treatment than they can get as small business owners. For me it is a fantastic victory for America, it is a victory for the Second Amendment, a victory for the Supreme Court, but most of all a victory for the people against the establishment. I think it helps remind the establishment it works for the people, not the other way around.
RT: Lee, we're seeing crowds of protesters across the US rejecting Trump's presidency. But he won fair and square. Should the country not come together under a democratically elected president and get on with the plenty of pressing issues?
Lee Jasper: The problem is in the real world the passions are unleashed and the hate that has been fermented and promoted by the Trump campaign in this election has caused deep wounds that exacerbated the strains in American society. America right now is a broken society, and Trump can't fix it. He is a polarizing candidate who divides the nation. The nation is not going to get behind him. I think you'll find in the coming days and weeks as Trump struggles to put together a credible team, who can last more than two minutes with the type of Commander-in-Chief and leader he is going to be. I can expect a run through of an endless number of people in high positions in power over the next two years you can't bear and suffer. He has a completely inappropriate approach to politics. Therefore we've got a serious issue for America, we've got a serious issue for the American constitution – the country is divided. As we've already seen, hate crimes in America have already started to spike, and much like here in Britain.
RT: Katie how would you comment Lee's statement that the country cannot come together under a Donald Trump presidency?
KH: I just think we have to remember this is a guy who hasn't come from politics, this is a guy who hasn't been sitting around in public administration like Hillary Clinton for 30 odd years, hiding behind her husband suits and then emerging into the open and getting loads of money from the Clinton Foundation, because she is Secretary of State. This is man who has got things done; this is a man who has created a building empire. He didn't manage to make that happen by magic. He managed to surround himself with the right people who could get things done, deliver buildings under budget and on time. And he would do the same with the presidency. That last stat about hate crimes rising – that is the same nonsense we saw after Brexit. All that happened there was our police started to be incentivized on reporting hate crimes – that is why the figures went up. It is the same old drivel that we had after Brexit.
LJ: This is utter drivel. To suggest the British police are inventing, or incentivizing people to make up hate crime is risible. The reason why hate crimes have gone up in Britain is because Brexit gave a green light to racists and bigots and homophobes and Islamophobes. And in exactly the same way in America – what we've already seen is tax on Muslim people, women in hijabs; terrible attacks on people suspected of being Mexicans. This is all verified and online, you can check it yourself. So what we're seeing is exactly the same trend has been unleashed in America Donald Trump has got more race cases against him from his former employees – race harassment cases - going back from 1973 – all the way up to today…
KH: Many black politicians, many black commentators, who have been proven wrong and surprised by the election, said that this was a case of people kind of a 'white lash' in America. It was no such thing. What this was a backlash against the Obama administration that has failed to deliver. And people don't want more of the same. Eighty-two percent of people who were asked "who is the candidate who can bring change" voted for Trump. That is why he has now got that position because they want change.
The statements, views and opinions expressed in this column are solely those of the author and do not necessarily represent those of RT.