Nigel Farage backtracks on promise to leave politics, claims he could run for MP again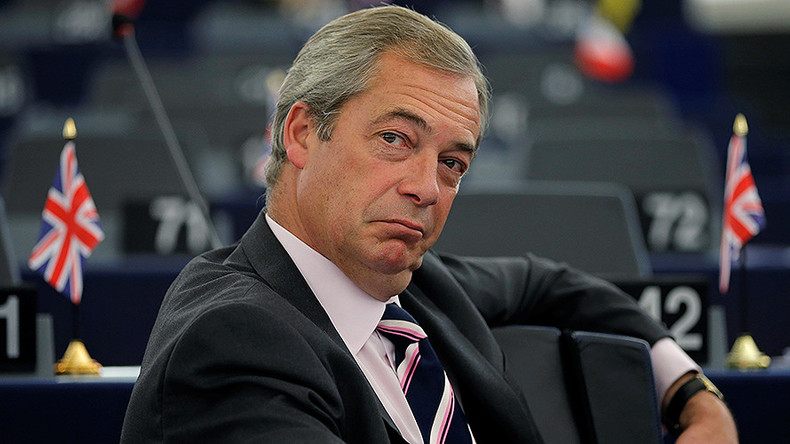 Nigel Farage has backtracked on his promise to quit frontline politics, instead claiming he would run for MP again if there is a by-election in South Thanet in Kent.
Farage has accused the Conservatives of having "cheated" in the election last year, claiming the party broke election spending rules. Police and watchdogs are currently investigating the matter and if the claims are true, the election would have to be re-run.
When asked by the Mail on Sunday whether he would stand in such an election, Farage said, "I'd have to."
The acting UKIP leader previously said he would quit after the EU referendum in June, but has gone back on his word. Farage stepped down as head of the far-right party after the Brexit referendum, but is acting party leader since Diane James quit less than a month after taking over.
Farage's previous attempts to be elected haven't gone so well, with the UKIP head racking up seven failed MP election runs since 1994.
For this, his eighth attempt, Farage suggested to the newspaper that Trump could even come to the UK to help him with the campaign, much like Farage did during one of Trump's election rallies.
UK Prime Minister Theresa May recently rebuffed Farage's offer to act as a go-between with Trump when a spokesperson said there will be "no third person" in the relationship between the UK government and the US president-elect.
READ MORE: Nigel Farage 'irrelevant' to UK-Trump relationship, says defensive Downing Street
"I suspect one of the reasons Downing Street is being so vile about me – just when I can play a positive role with Trump – is because they are worried this may come back to bite them," Farage claimed.
When asked about whether Trump's temperament was cause for concern, Farage said, "People with a personality who haven't gone through the political sausage factory have passion and a temperament and let their emotions show in public – the rest are so dull. It doesn't concern me in the least."