Nigel Farage 'irrelevant' to UK-Trump relationship, says defensive Downing Street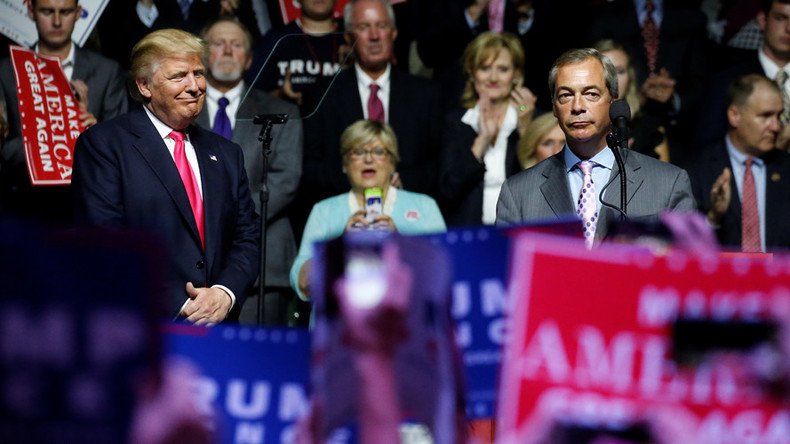 A clearly annoyed Downing Street has dismissed claims Nigel Farage will be used as a go-between for British ministers and the new Trump administration in the US, branding the interim UKIP leader an "irrelevance."
The Daily Telegraph reported on Thursday that ministers will seek Farage's advice because they have no links to the president-elect's inner circle.
The UKIP leader said the relationship between Donald Trump's Republican Party and the Conservatives has "completely broken down," according to the newspaper.
But Number 10 strongly rejected the claims on Friday morning, with sources close to Prime Minister Theresa May telling the BBC Farage is an "irrelevance."
The sources said Downing Street had been irritated by the claim ministers are seeking help from Farage in forging links with Trump.
International Trade Secretary Liam Fox has also reportedly said he has no intention of using Farage as a go-between.
Fox is said to have close contacts within the Republican Party, and as such has been tasked with reaching out to the Trump team.
But Farage claims he'll meet with the billionaire real estate mogul this weekend, which if true is well before any other British political figure. He was also invited to Trump rallies during the presidential campaign, a sign seen as proof that the pair are political kindred spirits.
Farage said he told the president-elect on Thursday he must "come to schmooze Theresa."
But he added: "Don't touch her, for goodness sake."
The inappropriate joke was a reference to a recording of Trump which emerged weeks before the election, in which the Republican candidate said he could do anything to women, including grabbing them "by the p*ssy."
The interim UKIP leader has described 2016 as a year of "democratic revolution" and predicts there will be "more shocks to come" in 2017.
In an article for the Telegraph published on Friday morning he also said the British establishment had been "foolish to scorn" Trump, and must now extend "the hand of friendship."
Theresa May spoke with Trump for the first time on Thursday, in a call described as "professional."
Trump reportedly told the PM Britain is "special" to him and invited her to visit the United States as soon as possible after his inauguration in January.
You can share this story on social media: