Tony Blair dismisses claims he wants job as Trump adviser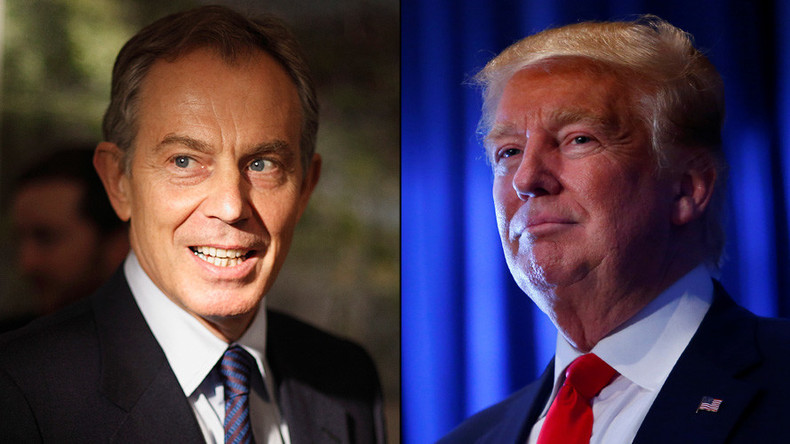 Former British Prime Minister Tony Blair's aides have dismissed claims he is angling for a job with US President-elect Donald Trump, calling the prospect "complete nonsense."
Blair was spotted dining with Jared Kushner, the incoming president's son-in-law and trusted confidant, in New York this week.
The encounter fueled speculation – denied by Blair – that he could be taking on an advisory role in the Trump team.
Kushner is married to the billionaire businessman's daughter Ivanka. The 35-year-old real estate mogul, businessman and publisher played a significant role in Trump's campaign and is believed to have been hugely influential in the shake-up of the Republican's transitional team.
Although Blair could not join the White House, technically he could advise the administration.
Blair, who quit his formal role as a Middle East envoy last year, has known Kushner for "several years," according to the Telegraph.
He stepped down as British prime minister in 2007. When in power, he shared a close relationship with Republican President George W. Bush.
Since leaving office, Blair has had roles advising various questionable leaders and organizations worldwide.
However, Blair's team has insisted there is no truth to claims he angled for a role with the president-elect.
"Tony Blair has known Jared Kushner for several years. Blair was walking past their lunch table. He knew a number of people at the table and he was invited to join them," Blair's spokesperson told the Telegraph.
"He has not discussed any role. This is completely overblown."
Asked if Blair would take on a formal Middle East peace role if asked by Trump, the spokesperson replied: "It's so far beyond speculation there isn't a word for it."
It is believed Blair and Kushner were introduced through media mogul Rupert Murdoch and his then-wife Wendi Deng.
Deng, who is said to have become infatuated with Blair while married to Murdoch, is a close friend of Ivanka Trump.
Top (alleged) Trump fact: Blair is friend of (DT son-in-law) Jared Kushner thru (KRM ex-wife) Wendi Deng (who introduced Kushner to Ivanka)

— Ian Katz (@iankatz1000) November 18, 2016
Blair has previously said Trump's win over Democrat Hillary Clinton marks the beginning of a new "reality" which had triggered a political "earthquake" throughout the Western world. He had backed Clinton.
Speaking to CBC News, Blair said: "I won't pretend to you I wasn't surprised by what has happened over this past period, because I am, and what it means is not entirely clear to me yet.
"But there is a new reality you've got to make sure you come to terms with."
Last month, Blair refused to rule out a return to British politics, claiming his future role is an "open question."