Iraq war PM Blair hints at return to politics, claims public being offered 'fantasy & error'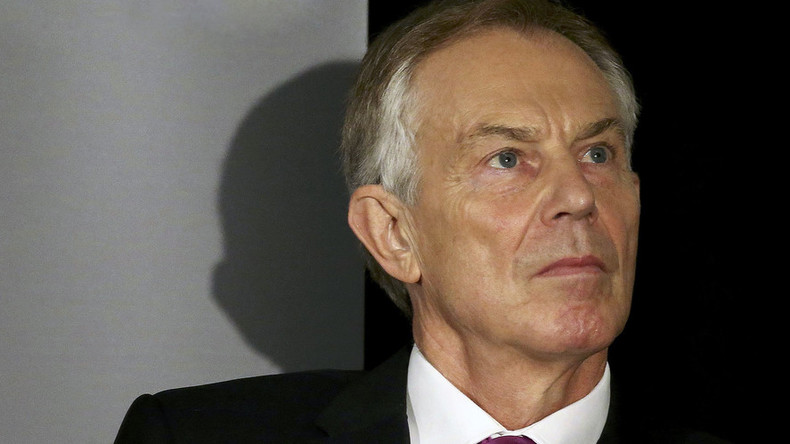 He sold his companies to spend more time doing charity work, but now Tony Blair is hinting at a return to politics as he warns that Jeremy Corbyn's Labour Party was putting Britain at risk of becoming a "one-party state."
In an interview with Esquire magazine, the former Labour leader dubbed it "a tragedy" that British voters now had to choose between the Tories and "an ultra-left Labour Party" which he believed pursued policies that took the country "back to the Sixties."
"In the UK at the moment you've got a one-party state," he told the magazine. "When you put it all together (taking into account that the Conservative leader wasn't elected), there's something seriously wrong."
And despite having recently announced he was scaling back on his million-pound-generating business activities to focus on his "inter-religious dialogue," the Tony Blair Faith Foundation, the ex-PM did not rule out a return to Westminster.
"I don't know if there's a role for me... There's a limit to what I want to say about my own position at this moment. All I can say is that this is where politics is at. Do I feel strongly about it? Yes, I do. Am I very motivated by that? Yes. Where do I go from here? What exactly do I do? That's an open question."
Personally I think Tony Blair should always have a place in British politics, as a cautionary tale to aspiring war criminals.

— Jacqui Berry 🌐 (@jacqui_berry) October 7, 2016
To Esquire, Blair added that Corbyn's refocusing of the party into a force on the streets as well as in Parliament "is a huge problem because they live in a world that is very, very remote from the way that broad mass of people really think.
"The reason why the position of these guys is not one that will appeal to an electorate is not because they're too left or because they're too principled – it's because they're too wrong.
"The reason their policies shouldn't be supported isn't because they're wildly radical, it's because they're not. They don't work. They're actually a form of conservatism. This is the point about them. What they are offering is a mixture of fantasy and error."
Tony Blair doesn't want a one party state. He wants two similar parties that create the illusion of democracy.

— Angry Salmond (@AngrySalmond) October 7, 2016
His comments, which came on the same day as many remembered the 15th anniversary of the War in Afghanistan, had a freezing reception across social media, on which critics described Blair as "narcissistic", "war criminal" and "c**t".
"Tony Blair hinting at a return to UK politics after years as a Middle East envoy. He just can't stop returning to the scenes of his crimes," tweeted journalist Hicham Yezza.
On the streets of Britain, Blair's return also received a frosty reception. A member of the public told RT: "He's done enough harm as it is. He seriously messed up the Middle East, took us to war with Iraq, we're still suffering from that. Lord help us, I just hope he stays out of it."
The father of New Labour argued instead that while there was a "huge reaction" against his politics, it was "too soon to say the center has been defeated."