5 dead, 50 injured in south London tram derailment (VIDEO)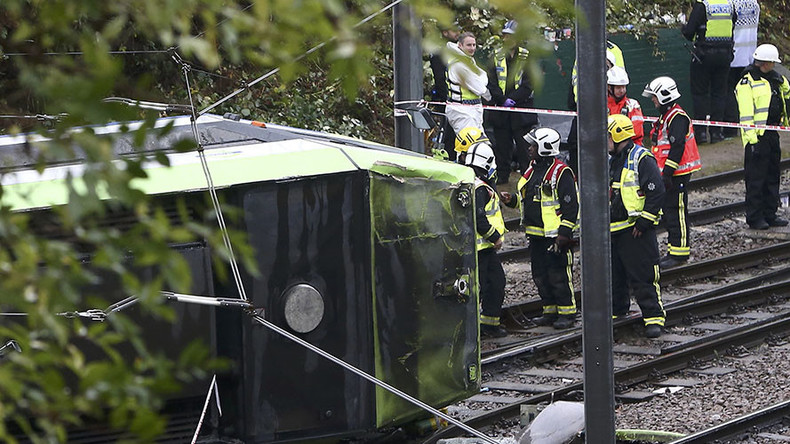 British Transport Police confirmed five people died when a rush-hour tram derailed in Croydon, south London, on Wednesday morning. More than 50 people were injured.
The driver, who is yet to be named, was arrested after the crowded tram overturned next to an underpass around 6am local time (06:00 GMT) on Wednesday.
The Rail Accident Investigation Branch also confirmed that the train was travelling at a "significantly higher speed than is permitted."
Eight vehicles and more than 70 firefighters were sent to the scene by the London Fire Brigade in an attempt to rescue the people trapped inside the two-carriage train.
"I heard a massive crash at about 6.15am, then heard shouting, then the emergency services arrived," said local resident Hannah Collier.
"They started bringing up the casualties, some very seriously injured. People were carried away on stretchers."
London Transport Commissioner Mike Brown said: "All of our thoughts are with those who sadly lost their lives in this incident, those who were injured and the families of those affected."
He confirmed an inquiry has been launched into the incident.
"We are working closely with the emergency services on site and will continue to work with them during the investigation into what happened," Brown added.
Part of the line, which links several stops in south London including Wimbledon, was suspended.
Our thoughts are with the victims and the loved ones of those affected by the tram derailment in Croydon this morning

— Jeremy Corbyn MP (@jeremycorbyn) November 9, 2016
London Mayor Sadiq Khan arrived at the scene of the accident in the afternoon to offer his sympathies to those affected and to meet and thank emergency crews.
"My thoughts and prayers are with the friends and family of those who have lost their lives today and everyone involved in this tragic incident," said Khan.
"I am in contact with the emergency services and [Transport for London], who are working extremely hard under very difficult circumstances to get the situation under control and treat those who have been injured."