Cagey May calls for calm US Election Day before polls open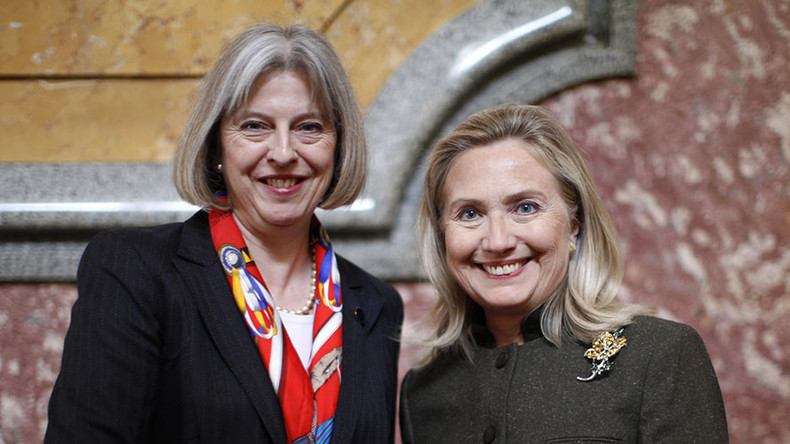 Prime Minister Theresa May has called for a "calm and measured" presidential election in the United States, a day before Americans go to the polls to choose their next head of state.
Speaking in India, where May is heading a trade delegation, the PM was careful not to endorse either candidate in the race for the White House.
Her comments came as FBI director James Comey announced on Sunday that the Bureau would not bring criminal charges against Clinton following the discovery of new emails stored on the Democratic candidate's private email server.
Speaking to the press in India, May said Tuesday's vote was a matter for the American public to decide.
When asked about the feverish atmosphere in which the election campaign has taken place, she said: "I take a simple view about the way in which I like to see campaigns conducted. I like to see them conducted in a calm and measured way with proper consideration of the issues.
"As to the result of the election, it's up to the American people and we'll know that very soon," she said.
As Home Secretary, May told a House of Commons committee last year that Republican candidate Donald Trump's comments about barring Muslims from visiting the US were "divisive, unhelpful and wrong."
She did not respond when asked if she still stood by this remark, however.
According to US opinion surveys, Clinton held a narrow lead over Trump as of Sunday. A Washington Post/ABC puts the former Secretary of State at 48 percent to 43 percent, while an NBC/Wall Street Journal poll tracks Clinton at 44 percent to 40 percent.
The Democratic frontrunner's campaign came under threat last week when the FBI opened a fresh inquiry into Clinton's private email server in the light of new evidence discovered late last month.
The FBI obtained a search warrant that allowed it to scour through some 650,000 emails discovered on a laptop belonging to ex-Congressman Anthony Weiner that was apparently also used by his wife Huma Abedin, Clinton's closest aide.
In a letter to Congress published on Sunday, Comey said his team "has been working around the clock" studying the emails, but claimed the review of the additional material "from a device obtained in connection with an unrelated criminal investigation" had not changed the investigators' previous conclusion that no charges were warranted in the case of the former secretary of state.