Boris Johnson banned from cycling to work because terrorists might target him
Published time: 2 Nov, 2016 12:00
Edited time: 5 Nov, 2016 15:25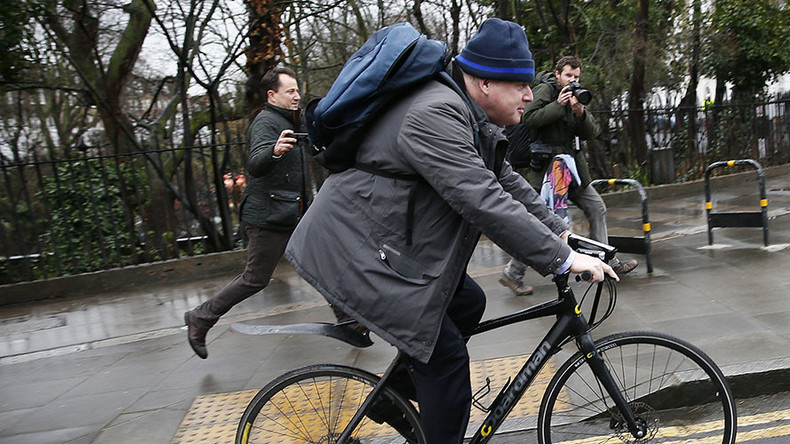 Foreign Secretary Boris Johnson has been banned from cycling to work over fears he is now a key target for terrorists.
The former London mayor, who introduced the city's public bicycle hire scheme, reportedly tried to appeal the decision.
But the Metropolitan Police insisted it is too dangerous for him to cycle in public given his new role in the cabinet.
Now the foreign secretary has taken up jogging in St James Park.
"Boris loves cycling, he used to go everywhere on a bike while he was mayor, so being told he can no longer do this is a real irritation or him," a friend told the Sun.
"He pushed back, but the coppers were adamant and he accepts he makes quite a recognizable target.
"He is now working on other ways to burn off all those big diplomatic dinners."
A Foreign and Commonwealth Office spokesman said, "We do not comment on ministers' personal security arrangements."
As mayor, Johnson routinely commuted by bicycle from his home to City Hall, near Tower Bridge. He was also often photographed cycling to meetings around the city.
He oversaw the upgrading and expansion of London's cycle network, including separated lanes connecting Westminster with Blackfriars and Oval with Pimlico.
The projects have been popular with cyclists, but some motorists accuse Johnson of causing longer traffic jams in the city.
The cycle ban reportedly contributed to Johnson's decision to move from his family home in Islington to Johnson's official residence in Carlton Gardens, a Grade I-listed building overlooking Buckingham Palace.
The property is worth tens of millions of pounds and was designed by John Nash, who also designed Buckingham Palace and Clarence House, the official residence of Prince Charles.
In addition to this apartment, he also has access to the foreign secretary's official country residence in Chevening, a Grade I-listed 17th-century mansion.
Johnson shares Chevening with Brexit Secretary David Davis and International Trade Secretary Liam Fox.