Boris Johnson hosts crisis talks with Libyan PM as Tripoli's authority crumbles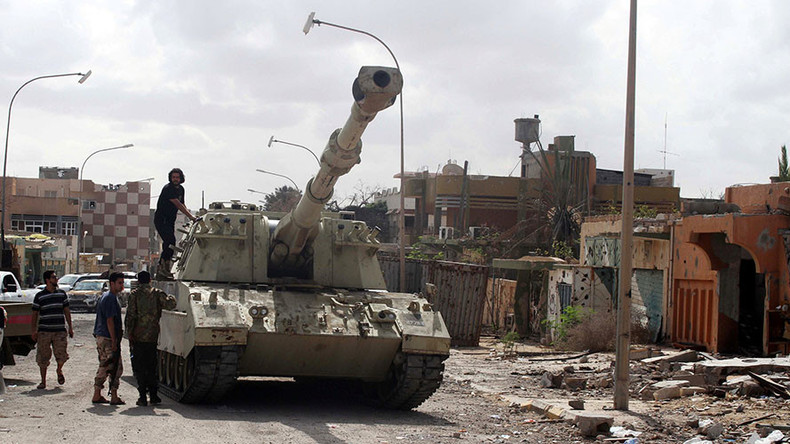 British Foreign Secretary Boris Johnson is hosting crisis talks with the Libyan prime minister in an attempt to tackle a political standoff preventing Tripoli's UN-brokered unity government from expanding its authority outside the capital.
Monday's meeting, hosted by Johnson and US Secretary of State John Kerry, comes as Libyan Prime Minister Fayez Seraj faces stiff resistance to his rule. Representatives from France, Italy, Saudi Arabia and the United Arab Emirates are also attending the talks.
"The goal in London is to … see if we can make some progress and get beyond the stalemate, which is preventing the [Tripoli] government from doing what it needs to do," Kerry told Reuters.
"Libyans are going to have to find a way forward even in the absence of any cooperation; you can't allow a small number of spoilers to destroy an entire country."
Five years after rebels deposed the regime of Colonel Muammar Gaddafi with the help of NATO-led airstrikes, Seraj's Government of National Accord (GNA), backed by the UN, the US and its allies, is still trying to impose its leadership outside the capital of Tripoli.
His government was installed six months ago.
Seraj has been in a standoff with General Khalifa Haftar, who has waged a military campaign against Islamists and other opponents in Benghazi and the east.
The PM has failed to persuade the rival elected parliament, which has its own government in the eastern city of Tobruk, to recognize his authority. It has twice rejected lists of ministers put forward by the GNA's leaders and blocked a parliamentary vote to endorse the body.
Seraj says he is open to talks with Haftar, whose recent seizure of oil ports has risked deepening divisions.
Monday's meeting will also see discussions on how to move forward with economic decisions and a budget until a finance minister is appointed. The failure to name a minister in the post so far has stalled economic decision-making in the OPEC country.
With the country's civil war entering its third year, its bank reserves are plummeting and the World Bank has warned Libya's economy is "near collapse."
Tripoli is struggling with power cuts, inflation and shortages of petrol and medicines, while currency shortages have provoked riots outside banks.
Two side effects of Libya's disorder are of major concern internationally. One is the uncontrolled flow of migrants setting off for Europe on boats operated by people smugglers, the second is the infiltration of Islamic State (IS, formerly ISIS/ISIL) militants now in control of patches of the country.
Government forces have been closing in on the key city of Sirte, hoping to flush out IS forces that grabbed the territory during factional fighting more than a year ago.
However, much of the rest of the country is in the grip of fighting by rival armed militias.