UK knew of 'extremist elements' within Libyan rebel groups - Liam Fox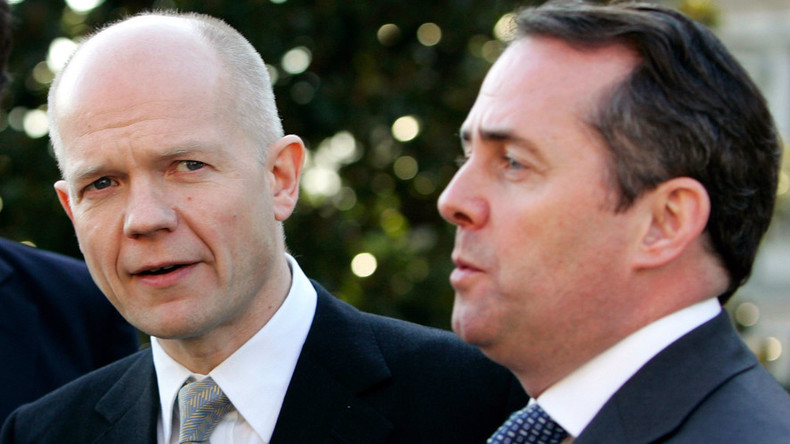 The British government was aware that some of the rebel factions fighting to topple late Libyan dictator Muammar Gaddafi during the 2011 uprising contained "extremist elements," former Defence Secretary Liam Fox told the Commons Foreign Affairs Committee.
"I think there was a view that they were such a disparate grouping that it was likely you would get some extremist elements in there," Fox said on Tuesday.
"It is always true that where a power vacuum is created, forces of insurgency are likely to be drawn into it."
The Conservative MP told the committee that "regime change was never the objective."
"There was never a plan for regime change as such. It was becoming clear that despite the destruction of command and control, despite repeated degradation of his military capabilities, Gaddafi did pose a threat to civilians," he said.
William Hague defends invasion of Libya, saying UK had faced "choice between unpalatable alternatives" - and prevented slaughter in Benghazi

— Jim Pickard (@PickardJE) January 19, 2016
Former Foreign Secretary William Hague echoed Fox's remarks as he defended the decision to intervene in the North African nation while rebel groups rose up against the Gaddafi regime.
Hague suggested that the West had an obligation to intervene to prevent genocide, as in the case of Rwanda and Bosnia.
"I have stood and placed wreaths at the Srebrenica memorial and at the Rwanda memorial, with thousands of dead bodies underneath me. When you do that, you have many thousands of bodies underneath your feet because in each case the world did nothing when thousands of people were being slaughtered—in Rwanda, hundreds of thousands," he said.
Hague placed blame for Libya's chaos and unrest, which has been a fixture since the ouster and death of Gaddafi over five years ago, on the dictator's four decades in power.
"The responsibility for the state of Libya today rests with Colonel Gaddafi - in power for 40 years, with hollowed out institutions and no proper system of government under a tyrannical dictatorship," he told the committee.
The committee met as Libya unveiled a new UN-backed government based in neighboring Tunisia, after over a year of negotiation.
Western powers hope that the new government, which includes representatives from Libya's two rival parliaments, will be able to bring the country's warring factions together in the face of the growing threat from Islamic State (IS, formerly ISIS).
Form over substance: The UN's Libyan "unity" government has been meeting outside the country and is subject to arrest in #Libya's capital

— James Wheeler (@wheelertweets) January 20, 2016
EU foreign policy chief Frederica Mogherini said that only a unity government in Libya would be able "to end political divisions, defeat terrorism, and address the numerous security, humanitarian and economic challenges the country faces."
However, critics say the new government, helmed by eastern parliamentarian Fayez Seraj, will face challenges uniting the deeply-fractured nation. Some have expressed concerns that the formation of the government was rushed and that not all factions are fairly represented in the 32-member cabinet.
You can share this story on social media: