Cameron to publish 'tell-all' memoir... but will ex-PM come clean about #PigGate?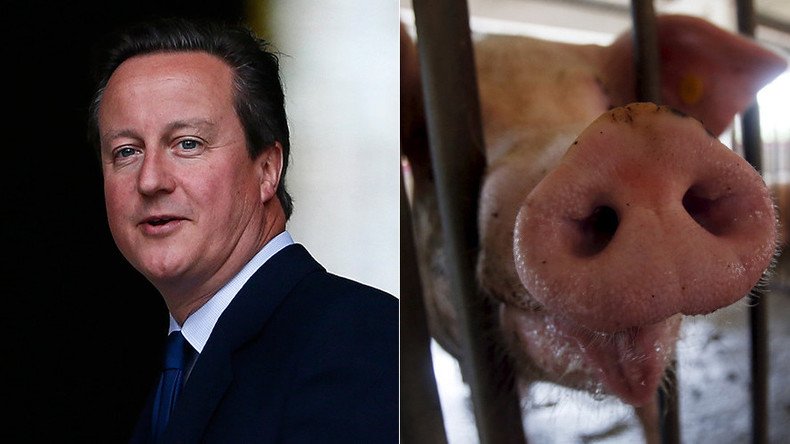 Former PM David Cameron says he will publish a 'tell-all' autobiography, reflecting on the highs and lows of his six years in office. It is not clear, however, whether he will address those salacious rumors involving an intimate part of his body and a pig's head.
Cameron signed a book deal with William Collins, an imprint of the Rupert Murdoch-owned HarperCollins, which expects to publish the memoir in 2018.
The former MP for Witney promises he will be "frank" in assessing his political career, which saw him lead the Conservative Party for 10 years.
The book, which does not yet have a title, will offer a personal and professional memoir on Cameron's time in Downing Street.
It will cover his family life in addition to major political moments, such as the decision to call a referendum on Britain's membership of the EU.
Cameron was recently ranked among the worst prime ministers in modern British history in a survey of academics by Woodnewton Associates.
His autobiography will cover the ups, downs and controversies of his tenure, including Scotland's vote to stay in the United Kingdom, his widely-criticized intervention in Libya, and his controversial reforms to the economy, welfare and education.
"It was an immense privilege to lead the Conservative Party for more than a decade and the country for over six years as prime minister," the former PM said.
"I am looking forward to having the opportunity to explain the decisions I took and why I took them. I will be frank about what worked and what didn't."
There was no mention as to whether Cameron will address the startling claim that he put "a private part of his anatomy" into a dead pig's mouth during a student initiation ceremony at Oxford University.
The allegation was made in 'Call Me Dave,' an unauthorized biography of the former PM by Tory grandee Michael Ashcroft and journalist Isabel Oakeshott.
Cameron has kept a low profile since resigning his parliamentary seat last month. However it emerged earlier in October he will be giving a speech for private equity firm Bain Capital.
The US company, which was co-founded by former Republican presidential candidate Mitt Romney, bought a National Health Service (NHS) subsidiary during Cameron's second year as PM, in 2012.
You can share this story on social media: