Leaked recording reveals Theresa May's true fears about Brexit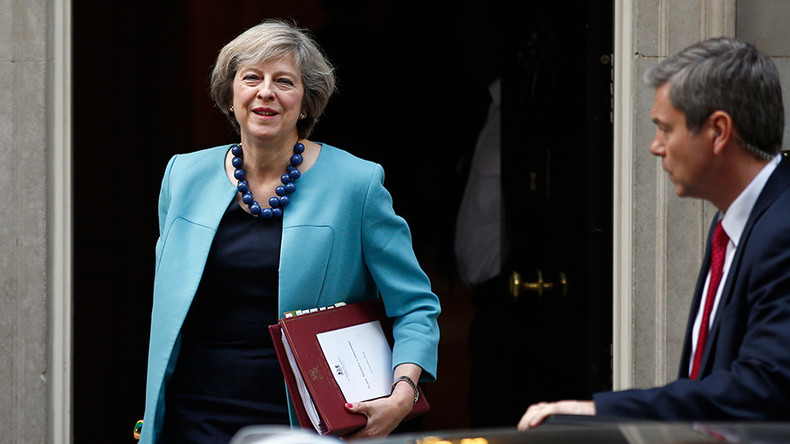 Downing Street insists that the government will "make a success" of Brexit, despite a leaked audio recording of UK Prime Minister Theresa May predicting companies could abandon Britain if it leaves the EU.
Speaking to a group of Goldman Sachs bankers on May 26 before the EU referendum, then-Home Secretary May said the economic arguments for remaining in the bloc were "clear."
In a leaked audio recording of the talk, published by the Guardian, May also claims membership in the EU makes Britain "more safe."
"Being part of a 500-million trading bloc is significant for us. I think, as I was saying to you a little earlier, that one of the issues is that a lot of people will invest here in the UK because it is the UK in Europe.
"If we were not in Europe, I think there would be firms and companies who would be looking to say, do they need to develop a mainland Europe presence rather than a UK presence? So I think there are definite benefits for us in economic terms."
May went on to say Britain was more secure inside the EU.
"There are definitely things we can do as members of the European Union that I think keep us more safe," she said.
A Downing Street spokesman did not comment directly on the recording, but insisted Brexit is in the UK's best interests.
"Britain made a clear choice to vote to leave the EU and this Government is determined to make a success of the fresh opportunities it presents," he said.
"David Davis made very clear in the House of Commons last week the importance the Government places on financial services across the UK in the negotiation to come, as has the Chancellor in recent weeks.
"We want a smooth and orderly exit from the European Union, which would be in the interests of both Britain and the EU."
Labour politicians accused May of deceiving the British public over the impact of leaving the EU's single market and called on her to be "honest."
Shadow Brexit Secretary Keir Starmer tweeted:
Andrew Gwynne, shadow minister without portfolio, said: "As if we needed it, this recording is cast-iron evidence of how Theresa May and other senior Tories have been saying one thing in private about the economic impact of Brexit and another in the comfort of Tory conference halls.
"It's plain that she recognises what a disaster it would be for Britain to lose access to the single market, so why doesn't she be honest with the British people and say how she plans to retain it?"