'This is our continent': Britain to deploy drones & tanks to Estonia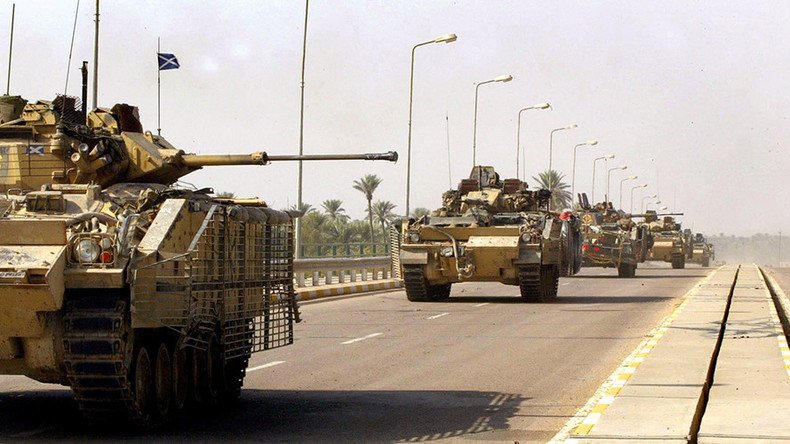 Britain's defense chief is mulling a deployment of Challenger 2 tanks and Royal Air Force (RAF) drones to Estonia amid heightened tensions.
Michael Fallon, the British defence secretary, made his bellicose comments in the Wall Street Journal on Tuesday, pledging to send around 800 armored infantry troops equipped with Warrior fighting vehicles to complement the drones and tanks.
While he claimed the force would be "defensive in nature" he pledged it would be "fully combat-capable."
He denied the placement of small formations around the Baltic area are merely a "trip-wire" in case of the much-heralded, but hypothetical, clash with Russia.
"This is a serious military presence," he said.
Fallon, a Euroskeptic who chose to back the Remain campaign in the EU referendum on the grounds of realpolitik, said Europe "is our continent and we will keep on working to help keep it safe."
Tensions have only just begun to subside after a fleet of Russian naval vessels bound for the Mediterranean passed through the North Sea and English Channel.
The passage caused a press frenzy in the UK, framed as though Russia was launching an invasion of the British Isles. The Royal Navy deployed destroyers to, in Fallon's words, "man-mark" the vessels while the RAF overflew the ships with fighter jets.
According to the Russian military, the naval group's task was to "ensure a naval presence in operationally significant areas of the world's oceans," as well as "the safety of maritime navigation and other maritime economic activities" of Russia.
Heading the fleet was the aircraft carrier 'Admiral Kuznetsov'. Her tour in the East Mediterranean is to last for almost six months, after which she is scheduled to undergo maintenance.
Besides the 'Admiral Kuznetsov', the Russian naval group that left the port of Severomorsk for the eastern Mediterranean on October 15 includes the battle cruiser 'Peter the Great', the anti-submarine vessel 'Severomorsk' and five other ships from Russia's Northern Fleet.
You can share this story on social media: