UK combat jets buzz Russian carrier in English Channel to 'take photos' – media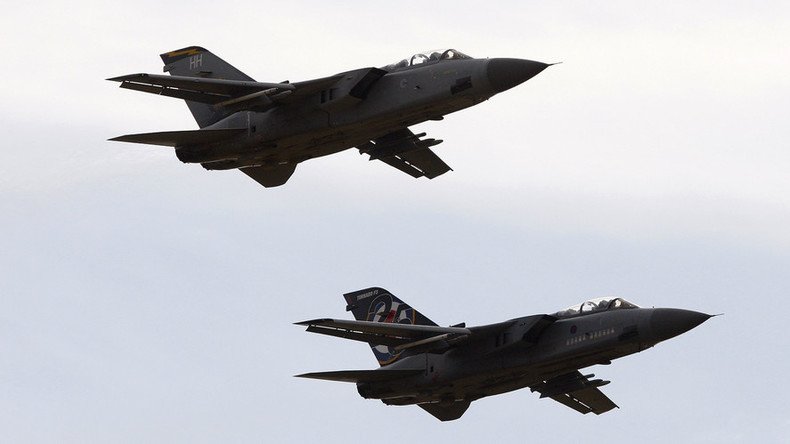 Two UK Royal Airforce (RAF) combat jets flew over the Russian aircraft carrier Admiral Kuznetzov in a "show of presence" as it passed the English Channel, the Times reports. The vessel, accompanied by seven more ships, is heading to the Mediterranean.
The planes were supposed to take pictures of Russia's only carrier and the seven ships accompanying it.
"They will be taking high definition photographs so we can analyze what is on the ships," a defense source told the Times, adding that among the points of interest were "how low and high they sit in the water."
The British newspaper reported that the fleet will later take part in Russia's anti-terrorist mission in Syria, despite there being no such confirmation from either the Russian government or the country's military.
According to the Russian military, the naval group will "ensure a naval presence in operationally significant areas of the world's oceans," as well as "the safety of maritime navigation and other maritime economic activities" of Russia.
Admiral Kuzentzov's tour in the East Mediterranean is supposed to last for almost six months, after which it is scheduled to undergo maintenance.
Besides the Admiral Kuzentzov, the Russian naval group that left the port of Severomorsk for the eastern Mediterranean on October 15 includes the battle cruiser Peter the Great, the anti-submarine vessel Severomorsk, and five other ships from Russia's Northern Fleet. The group conducted a two-day naval exercise while heading out of the Norwegian Sea.
The UK warship HMS Richmond escorted the Russian flotilla from the Norwegian Sea, while the HMS Duncan, a Type 45 destroyer, departed from Portsmouth on October 18 to "man-mark" the group.
Despite causing a stir among some NATO countries, the secretary general of the alliance, Jens Stoltenberg, said that the Russian navy "is free to operate" in international waters.
WATCH MORE:
You can share this story on social media: