British PM's demand to sanction Russia derailed by Italy & others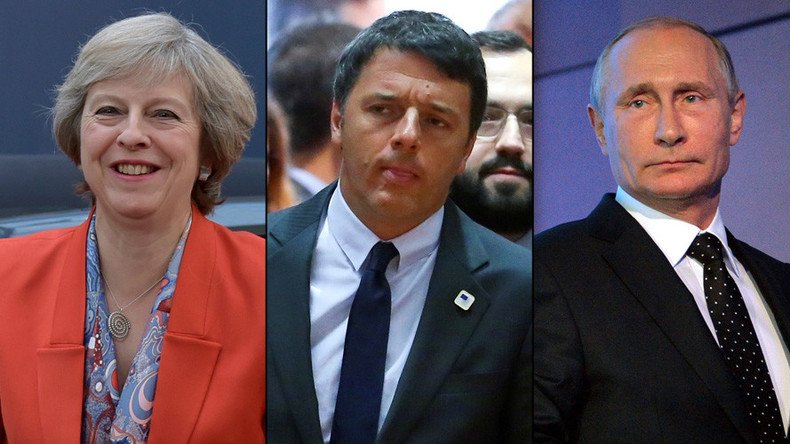 British Prime Minister Theresa May's desire for new severe sanctions against Russia over its intervention in the Syrian conflict, met firm opposition from the Italian leader Matteo Renzi, among others.
In her first address to the European Council as Britain's PM, May insisted the EU should send a "robust united message" to Russian President Vladimir Putin over his alliance with Syrian head of state Bashar Assad and the ongoing operation in Aleppo.
"It is vital that we work together to continue to put pressure on Russia to stop these appalling atrocities, these sickening atrocities, in Syria," she told her European counterparts.
However, she had to swallow her words after Renzi succeeded in removing all references to new sanctions from a document tabled by May, with the help of France and Germany, at the Brussels summit. Renzi was able to extract the call for "further restrictive measures targeting individuals and entities supporting the [Syrian] regime" from the last minute motion. Reservations over possible sanctions on Russia were also expressed by Austria, Spain, Greece and Cyprus.
"I think that to refer in the text to sanctions makes no sense," the Italian told the press after the meeting's late finish around 2am. "So I think that the words we wrote in the final document are the right ones – to say we need to do everything possible to promote an agreement in Syria."
The final paper referred to a less controversial effort to consider "all available options, should the current atrocities continue."
The debate came a few hours ahead of a Russian flotilla, including the country's only aircraft carrier, entering the English Channel on its way to the Mediterranean reportedly to support the operation in Syria.
By not threatening Russia with sanctions over Syria, EU refuses to make Russian attacks on civilians more costly. May be seen as green light

— Ulrich Speck (@ulrichspeck) October 21, 2016
May calls for EU sanctions on Russia over Syria. We won't be able to do that so easily if we quit EU.

— Hugo Dixon (@Hugodixon) October 21, 2016
Russian diplomats have highlighted that the nation is "committed to the fight against terrorism, and will not 'run out of road.'"
"We have been working hard with the United States within the framework of the International Syria Support Group (ISSG), as well as on a bilateral basis in order to ensure a sustainable ceasefire and transition to a political settlement in Syria," said Russian Ambassador to the UK Alexander Yakovenko.
You can share this story on social media: